Burma: The mockery of "amnesty"
Published on Thu, 2011-05-26 07:15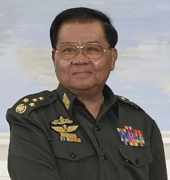 General Than Shwe. (Photo: Peerapat
Wimolrungkarat/Government of Thailand)
Source: FIDH
The announcement on 16 May by Burmese dictator Thein Sein that all prisoners will receive a one-year sentence reduction is so woefully inadequate that it should be regarded as nothing but another attempt to present a façade of change while the regime continues to restrict fundamental freedoms and commit serious crimes against civilians, the International Federation for Human Rights (FIDH), the Alternative ASEAN Network on Burma (Altsean-Burma) and the Burma Lawyers' Council (BLC, national focal point of Social Watch) said this Monday.
The decision was announced just days after Mr Vijay Nambiar, the special advisor to the UN Secretary-General for Burma, visited the country from 11-13 May, at the conclusion of which he reiterated the necessity of the release of all political prisoners.
While opposition leader Daw Aung San Suu Kyi was released from house arrest in November 2010, there are more than 2,100 political prisoners behind bars, and a majority of them are serving long sentences, often in abysmal conditions with little to no access to necessary medical treatment.
Twenty-eight political prisoners are serving 65-year sentences and three are serving sentences of 93, 103 and 106 years respectively. The one-year reduction therefore makes very little difference to these prisoners.
Such a paltry 'amnesty' is thus not only an insult to a large number of prisoners jailed for peacefully exercising their civil and political rights, but also a clear indication that the new, so-called civilian government in the new capital city Naypyidaw is ostensibly a re-packaging of the same military leaders who had ruled Burma with extreme brutality over the past decades, said FIDH, Altsean-Burma and BLC.
Since the sham elections in November 2010, the new government, dominated by former high-ranking officials of the State Peace and Development Council (SPDC), has been trying to convince the international community that Burma has taken positive steps towards democracy. However, the reality on the ground provides a completely opposite context, warned the organisations.
"The so-called amnesty decision is another cynical trick by the Burmese military leaders to create a smokescreen of progress," said Souhayr Belhassen, FIDH President, "but such gestures fool no one as we continue to document gross human rights violations, including forced displacement, attacks against civilians, burning of villages, and rape committed by soldiers."
"This empty move reminds the international community yet again the utter lack of substantive progress and accountability on the ground and that any shift in policy towards the dictatorship in Burma must encourage real change," Ms Belhassen added.
Not only do gross human rights abuses continue to occur, Burma is also no closer to 'democracy' than it used to be before the elections and, if anything, is straying further from it, said FIDH, Altsean-Burma and BLC. In October 2010, before the elections, SPDC Chairman Senior General Than Shwe ensured that the new parliament would be subservient to its agenda by issuing a series of laws that impose severe restrictions on parliamentary debate and participation.
He also ensured his own grip on power by appointing himself the leader of a new body, the State Supreme Council. Retired military officials or out-going SPDC ministers make up 26 of the 30 newly appointed Cabinet Ministers.
"These developments provide further evidence that Burma is not yet ready to chair ASEAN," stressed Debbie Stothard, FIDH Deputy Secretary-General and Altsean-Burma Coordinator. "ASEAN should insist on the immediate and unconditional release of all political prisoners and an immediate halt to military attacks against ethnic communities before considering Burma's eligibility to be its Chair."
"The one-year reduction in sentence by the President of Burma, Thein Sein, for all prisoners is a farce and exposes the one-step-forward changes as a political joke," said U Thein Oo, Chairman of the Burma Lawyers' Council. "In issuing the amnesty order, the military government merely offered old wine in a new bottle. The reshuffling of the government was a purely cosmetic change and the international community should not accept these recent events as anything more than an empty gesture," Mr. Thein Oo added.