South Korea: Top advisers at major law firms worked for the government
Published on Fri, 2011-05-27 07:55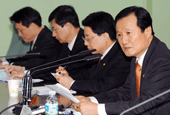 Strategy Minister Yoon Jeung-hyun
(Photo: University of Wisconsin)
Sources: Yonhap report,The Korea Times report
More than half of the senior advisers at six major South Korean law firms are former bureaucrats with expertise in finance, warned this month the Citizens' Coalition for Economic Justice (CCEJ, national focal point of Social Watch).
Fifty-tree of the 96 top advisers at the law firms had previously worked in tax agencies and financial watchdogs, raising concerns over the influence they may peddle in the firms' dealings with the government, said a report launched by the CCEJ.
Kim & Chang, South Korea's largest law firm, keeps a large number of former government officials on its payroll, triggering speculation that they are used to lobby for their big clients, according to Kim Tae-gyu, journalist of The Korea Times newspaper.
"Many [former] ranking officials from the Fair Trade Commission and the National Tax Service join law firms like Kim & Chang shortly after they retire," said Kim Mi-young (CCEJ).
"What do they do in return for large remunerations? Common sense tells us that they offer inside information they still have access to and influence the decisions of their erstwhile colleagues to offer better chances for their clients, mostly big companies, to win in lawsuits, possibly against government agencies."
Kim & Chang said that its advisors get paid for their expertise, while rebuffing the allegations that they were acting as lobbyists.
The debate concerning Kim & Chang began this month after Minister of Land, Transport and Maritime Affairs-nominee Kwon Do-youp was found to have earned 25 million won (23,000 dollars) a month during his five-month stint at the law firm.
The amount represents a substantial leap from the candidate's salary during his tenure as a vice minister.
In the CCEJ survey, Kim & Chang led the list with a total of 28 advisors, who formerly worked for influential government offices. The contents of which were collected from the online statistics of each company.
For example, the list of advisors Kim & Chang announced on its website includes just a single figure from the National Tax Service, according to the CCEJ. But an insider at the outfit told The Korea Times that more than 20 with experience at the NTS are working there at the moment.
In this climate, even the Federation of Korean Industries (FKI), the biggest lobby for local conglomerates that is supposed to represent big companies and law firms, presented a negative opinion on the influential role of law firms.
"I don't think that Kim & Chang is a law firm. It is just a big lobby group," said an FKI executive, who asked not to be named.
Prominent figures as Strategy-Finance Minister Yoon Jeung-hyun and former Prime Minister Han Seung-soo used to work for Kim & Chang.
»