Chile: environmentalists take the streets
Published on Fri, 2011-05-27 13:36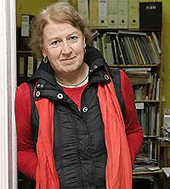 Sara Larraín. (Photo: Partido Ecologista)
Sources: Enlazando Alternativas, IPS News Agency
The government of president Sebastián Piñera dropped the charges of "disturbances" against Sara Larraín, director of the environmental NGO "Chile Sustentable" after a judge determined that her arrest was illegal.
Larraín, a former independent presidential candidate, was arrested mid May with other 63 demonstrators while they were participated in Santiago in a protest against the HidroAysen project, to build five dams on the Pascua and Baker rivers in the Chilean Patagonia.
In an e-mail to her friends and supporters, Larraín said the government had accused her in an "unfounded and unsupported" fashion. The judge also called the police action against a pacific demonstration "excessive and disproportionate".
Larraín and Sergio Aguilo, an opposition MP who was arrested in the same protest, presented their version of the facts before the parliamentary Human Rights Commision and brought charges against the Ministry of Interior.
Two weeks later, the protests against the HidroAysén project turned massive. As many as 80,000 people took to the streets Friday May 20 through downtown Santiago; 50,000 did so Saturday in the port city of Valparaíso, 120 km north of the capital, where right-wing President Sebastián Piñera was giving his annual state of the nation address; and tens of thousands of demonstrators protested Saturday in 26 other cities, reported IPS news agency.
The protests were the largest seen since dictator General Augusto Pinochet stepped down in 1990 after 17 years in power.
The HidroAysén project will affect six national parks, 11 national reserves, 26 priority conservation sites, 16 wetlands and 32 private protected areas in Patagonia and seven other regions, according to its opponents.
»