Morocco: Protesters stand up against Government's crackdown
Published on Mon, 2011-06-06 13:00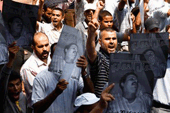 (Photo: Associated Press)
Sources: IPS, Al Jazzeera, Los Angeles Times
Thousands poured into the streets of Rabat, the capital of Morocco, on Sunday Jun. 5 and also in Casablanca to condemn the death of a protester and to demand the country-wide government crackdown on peaceful demonstrations reaches an end. The protesters are part the February 20 Movement, led largely by young people demanding pro-democracy reforms and an end to government corruption and repression – as well as an end to poverty and inequality.
Police violence against peaceful demonstrators in Morocco had exploded in recent weeks, a significant escalation of government repression, but this time the Government seems to be softening its stand. The protests in previous weeks have seen a tougher response from security forces in contrast to an earlier hands off approach to the demonstrations for major constititional change. This time, however, no riot police showed up to limit the croad in Rabat and Casablanca.
Police were seen watching from a distance as the crowds marched in Rabat and Casablanca, calling on the government to resign and demanding better jobs, education and healthcare. According to some demonstrators, undercover police mingled with the crowds.
Protesters in both cities waved posters of Khaled al-Amari, a member of Morocco's main opposition group,, who reportedly died from wounds he suffered during clashes with police on May 29 in Safi, about 200 miles south of Rabat. The 30-year-old died after reportedly suffering a severe beating at the hands of police during a protest in the city of Safi. The Government denied his death was a direct result of police violence, arguing . The interior ministry categorically denied the man's death was related to the protest, one of several demonstrations that took place in Moroccan towns that day, saying Amari died of cardiac arrest and respiratory failure. However, according to numerous eyewitness accounts he was severely beaten.
On Sunday, in Rabat, the crowd proceeded from the Old City down Muhammed VI Avenue, many holding pictures of Khaled al-Amari's beaten face. Protesters chanted: "Down with despotism. We want freedom and dignity," and "peace, peace, freedom is coming," as they made their way to parliament.
"We are demanding democracy and dignity," declared Mohammed Aghmaj. "The police are not being violent today because there was a martyr. But we know they have been violent in the past," he said, referring to the relative calm at the demonstration.
According to activists as well as analysts, the recent escalation in violence is meant to overturn mass mobilisations before the July 1 referendum on reforming the constitution, a concession offered by King Muhammed VI to the February 20 Movement protesters.
Mohamed Elboukili, from the Moroccan human rights organisation Association Marocaine des Droits Humains ["Morrocan Association of Human Rights"], said that "police have been given orders to break protesters' legs and heads."
Launched on February 20 this year, the protests have swelled in conjunction with the so-called "Arab Spring" protests and revolutions sweeping the Middle East and North Africa. Gatherings continue regularly, culminating weekly in coordinated demonstrations throughout the country.
Also, the Association Marocaine des Droits Humains has received reports that police have started paying house visits to protest organisers' homes, telling them not to attend protests. "Now they are intimidating and watching people," says Elboukili. "The police are making their presence known."

Government repression, according to activists, comes on the heels of Saudi Arabia's invitation to Morocco to join what has been termed the "club of kings", the Gulf Cooperation Council, intended to protect the interests of monarchs against the "Arab Spring" uprisings throughout the region. While Morocco is a constitutional monarchy on paper, in practice, power is consolidated in the hands of the king, who can nominate and dismiss the prime minister and cabinet, dissolve parliament, and levy emergency powers King Muhammad's dynasty has dominated the country's political landscape for 350 years.