Palestinians civil society condemns Greek ban on Freedom Flotilla
Published on Tue, 2011-07-05 07:57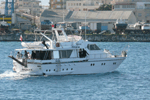 "Dignity", a ship of the
Freedom Flotilla.
(Photo: Free Gaza Movement)
Sources: WAFA, Petra, Palestine Chronicle.
The Palestinian Non-Governmental Organizations Network (PNGO), which represents hundreds of civil society organizations and is a focal point of Social Watch, condemned in a statement issued this Saturday the Greek government decision of banning a ship travelling with the Freedom Flotilla II from sailing to Gaza, describing it as "unfortunate."
PNGO said it "considers this unfortunate Greek decision and procedure to be a response to the Israeli pressure and incitement campaign against the Freedom Flotilla 2".
The boats "hold hundreds of peace activists who are on a humanitarian mission in the framework of international law with a main aim of contributing to efforts to lift the siege on the Gaza Strip and delivering humanitarian aid and building materials", added the network.
The statement remembered that "the [Israeli] occupation still prevents" humanitarian aid and building materials "from entering Gaza Strip due to the illegal siege" that "has been imposed for the fifth year in a row."
The Greek navy pursued the US ship that was supposed to meet other ships taking part in the Flotilla after it left the port on Friday and ordered it to return to shore, claiming the ship did not obtain a clearance to leave the Greek port, reported the Palestinian news agency WAFA.
PNGO said the Greek government should have sided with international law and stood against the Israeli blockade instead of preventing the ship from sailing to Gaza. The network called on the Greek government to facilitate the work of the flotilla and to act against those trying to sabotage the ships.
The organization also urged the international community and U.N. Secretary General Ban Ki-moon to move promptly to get the 5-year siege on Gaza lifted, open crossings to people and goods and provide protection for Freedom Flotilla 2 to ensure it reached its destination.
Hundreds of pro-Palestinian activists sailing in a flotilla of nine Greek and foreign vessels to Gaza have vowed to proceed with the mission to break Israel's crippling blockade of the coastal territory to deliver aid, reported Jordanian news agency Petra.
A hundred children rallied on Saturday at the port of Gaza to denounce Greek obstruction of the Flotilla and to demand the release of its ships, reported from that territory US activist Joe Catron, a member of the International Solidarity Movement-Gaza Strip, in an article published by Palestinian Chronicle.
"We want the UN and the international community to intervene to protect the Flotilla," said to Catron the Gaza co-ordinator of the PNGO, Amjad Shawa. "Our message from civil society is that we need efforts like this. We refuse the absurd Israeli claims that this is some kind of military threat, and assert that these are civil activists who are only carrying food, medicines, and construction materials."
The PNGO is preparing the arrival of the Flotilla and its passengers. "We'll organize site visits for them, meetings, talks, sometimes demonstrations if that's what they want. We are a contact point between Palestinian civil society and this international coalition. Many of these organizations are our partners."
"Of course [the Flotilla] is political," he added. "If it were only bringing food, there would be no difference between the World Food Program and the Flotilla. If there were no political message, they could send it all to Ashdod for land transportation to Gaza. But I understand that each activist coming here believes in the rights of the people of Palestine. And they're challenging the risks and provocations from the Israeli side because of those beliefs."
"We know that the Flotilla will not end the naval blockade, but it has already sent a very important message to Israelis, Palestinians, and people in the surrounding countries. This criminal siege cannot be allowed to continue."
»