Social Watch defines new strategy in its Global Assembly
Published on Fri, 2011-07-08 09:19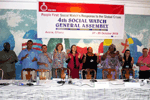 The Coordinating Committee
elected in Accra, 2009.
(Photo: Social Watch)
Source: Social Watch.
Social Watch will define its strategy for the next years in its Global Assembly, which will bring together next week in Manila, Philippines, the diverse membership of the network. Representatives designated by national coalitions from over 70 countries of all continents will participate: women groups, human rights activists, unionists and campaigners for social justice. During three days, they will be discussing the new challenges brought about by the global crises and the civil society responses to it.
A new Coordinating Committee will be elected. Several panels with invited speakers from academia and international organizations will inform the discussions.
After the official inauguration at high level in the evening of July 12, with Vice President Jejomar Binay to deliver the keynote address, the Assembly will meet from July 13 to 15, 2011, hosted by Social Watch Philippines (SWP). The approval of a strategy document --that will cover external aspects (advocacy, alliances) and internal (capacity building, expansion of the network, governance)-- an the election of a new Coordinating Committee, in charge of implementing that strategy in the coming years until the next Assembly, are expected on the final day of the discussions.
The Assembly will be a space where we share information and learn from each other, where we discuss the issues and where we build consensus and make decisions. There will be an opportunity for in depth information sharing during the workshops, where we will be learning from each other's experiences. There will be also space to self-organize activities. At least 125 people will deliberate in Manila, including representatives of national SW coalitions and organizations, special guests, funders and observers.
There will also be an area for a "flea market" or "social exhibit", where each national SW coalition will have a space to display publications, posters, campaigning materials, photos, videos or anything that can help to show others what it does, or to convey something about the context in each country or region. People will be able to show, distribute or to sell materials.
Social Watch was created in 1995 to hold governments and international organizations accountable for the ambitious commitments they made at the Social Summit and the Beijing Conference on Women. Since then, more than one thousand organizations have joined the network, comprehensive reports have been published every year and indexes were developed by Social Watch to monitor gender equity and basic social capabilities.
Based on the findings from the grassroots, Social Watch warned in 2006, in its Assembly in Sofia, that the financial architecture was "impossible". After the crisis erupted, Social Watch argued in 2009, in Accra, that putting people first was the best stimulus package, combining economic sense with the ethical imperative. In 2010 we reported to the MDG Summit that social progress was slowing down and poverty eradication could only happen with gender justice, climate justice, financial justice and plain old justice, with courts, accountability and functioning institutions. Now-a-days these same points are courageously being made by people crowding the streets in numerous countries.
More information:
The Social Watch Global Assembly 2011