Governments urged to ratify ILO Convention 189 on domestic work
Published on Fri, 2011-07-15 08:27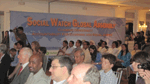 The Social Watch Global
Assembly finished on Friday.
(Photo: SW)
Source: Social Watch
International advocates of social and economic justice attending the 5th Social Watch Global Assembly in Manila urged governments to ratify the implementation of Convention 189 on Decent Work for Domestic Workers following its adoption by the United Nations International Labor Organization (ILO) in June.
The delegates voiced their support for the ratification during the workshop on migration issues held on Wednesday.
The passage of Convention 189 has been celebrated by workers around the world as they expect the landmark measure to change the lives of at least 100 million workers globally. It provides that domestic workers who care for families and households must have the same basic labor rights as those available to other workers: reasonable hours of work, weekly rest of at least 24 consecutive hours, a limit on in-kind payment, clear information on terms and conditions of employment; and respect for fundamental principles and rights at work including among others freedom of association and the right to collective bargaining.
Under international law, the next step for ILO-member States will be to submit the new labor standards to the national authorities for enactment or other action, including ratification. Ratification would mean accepting the Convention.
The measure was passed overwhelmingly by ILO members with 396 voting in favor, 16 against, and 63 abstaining. A recommendation, which outlines how to implement the convention, was also approved 434 to 8, with 42 abstentions.
According to migration workshop organizer Wahyu Susilo of Indonesia, the ratification of Convention 189 will be included in the report they will submit to the Social Watch Global Assembly's Drafting Committee.
"We will recommend a campaign in the national and regional levels to ratify its implementation," said Susilo, head of advocacy and network division of the International NGO Forum on Indonesian Development (INFID).
The report of the migration workshop group will also evolve on other issues, among them the situation of migrant workers in the Gulf Area, and those in Somalia, Cambodia and Afghanistan after the civil war; and discussions on the complexity of migrant workers relative to economic and gender issues according to Susilo.
Agnes Matienzo of Migrant Forum in Asia (MFA) said there should be a global initiative to introduce Convention 189 to domestic workers, especially domestic helpers, so they will become aware about its existence.
"The best strategy is for governments to ratify the convention. The Philippines has a draft bill on this already," said Matienzo.
William Gois, MFA regional coordinator, said it took ILO about six years to approve the measure which means that within the organization, there is also resistance to look into domestic work. "ILO managed to bring in the discussions on the need for standard-setting and to look at the informal sector."
Meanwhile, Abdul Kadir Khalif Sh. Yusuf, of the Somali Organisation for Community Development Activities (SOCON), proposed the identification of civic organizations working on migration which Social Watch can coordinate for action on migrant workers' issues.
"We can identify Social Watch members who will do advocacy work of presenting to workers their rights. We should think of the migrant workers and their families too," he said.
At an earlier press briefing, Social Watch global coordinator Roberto Bissio said migration of workers should be connected to the UN Convention on the Rights of Migrant Workers. He also said the forceful displacement of people is a practice that should be evaluated, and that the right to migrate and establish one's self where an individual wants should be respected.
Emily Joy Sikawze, Co-Chairperson of Social Watch Coordinating Committee, said governments allow human trafficking because they do not take their responsibility seriously.
She said women trafficking happens for various reasons among them sexual exploitation and selling of infants of women-victims.