Climate change is drying out eastern Africa
Published on Thu, 2011-07-21 07:30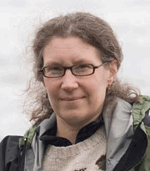 Doreen Stabinsky. (Photo:
College of the Atlantic)
Source: Third World Network
The last two rainy seasons did not materialize over a major portion of the Horn of Africa. All of Somalia, and large swaths of Ethiopia, Kenya, Djibouti and northern Uganda are now experiencing their worst drought in sixty years, warned Doreen Stabinsky, Professor of Global Environmental Politics at College of the Atlantic in Maine, United States.
Climate refugees are streaming from Somalia into camps in Ethiopia and Kenya by the tens of thousands, and international organizations are ringing alarm bells in the media over the impending humanitarian catastrophe, said Stabinsky, who closely follows UN climate negotiations, in one of her articles published in SUNS.
The drought conditions have most severely affected pastoralists and their animals, with the largest impacts in regions of northern Kenya, southern Ethiopia and Somalia where over 65% of the population are pastoralists.
In some areas, up to 60% of the animals have already died from lack of water and pasture, depriving herders of their only source of income and food. Agricultural experts predict a half a million or more livestock deaths this year.
Pastoralists and agro-pastoralists in the region are increasingly at risk from climate change. More frequent droughts, including a recent drought in 2008-2009, have reduced overall livestock holdings, decreasing the protein and milk available to families. For the animals that remain, milk productivity is low, contributing further to malnutrition among the affected populations.
To compound the already dire situation, grain prices are skyrocketing throughout the region. Red sorghum in Somalia is now over 240% its price from a few months ago. Yellow maize in Jiiga, Ethiopia, costs 117% above last year's price; white maize in northern Kenya 58% more.
For those pastoralists and agro-pastoralists who still have animals to sell, due to low prices of livestock and increases in the price of grain, their terms of trade have significantly decreased - the 90-kilogram sack of maize they used to purchase for one or two goats now costs five. Lack of food, animals, or purchasing power is driving tens of thousands of climate refugees to migrate in search of food, water and pasture.
The United Nations Office for the Coordination of Humanitarian Affairs, in a report released on 10 June, estimates that overall food security conditions across the region will continue to deteriorate in the coming months, with no likelihood of improvement until early 2012 - if the rains return in October.
Present estimates of vulnerable populations are 3.5 million in Kenya, 3.2 million in Ethiopia, 2.5 million in Somalia and 120,000 in Djibouti.
Meteorologists are blaming the drought on a La Niña event - a periodic shift in global precipitation patterns that among other changes can dramatically reduce rainfall in eastern Africa (and that is also responsible for the record rains and massive flooding in Australia last year). In some areas, rains have failed for three or more consecutive rainy seasons, which normally occur between March and June and between October and December every year.
The more significant rains of March to June (known as the 'long rains' in Kenya and the 'belg' rains in Ethiopia) typically bring 40-80% of the yearly rainfall. Late, erratic and insufficient rains in these past months have tipped the region over the edge, following on the heels of one of the driest October to December seasons ever.
But to blame the drought on La Niña is to miss an important underlying cause – the slowly changing global climate that is drying out eastern Africa.
Professors Park Williams and Chris Funk from the University of California at Santa Barbara have been calling attention to the steady decrease in the region's long rains during the last thirty years (35-45% below normal), associated with the steady increase in sea surface temperatures of the Indian Ocean due to increasing global temperatures.
»