Egypt: Impunity persists for Abbasiya violence
Published on Tue, 2011-07-26 13:42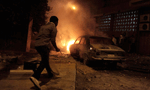 Incidents in Abbasiya.
(Source: Signalfire.org)
Source: Report by Salma Shukrallah, Al Ahram
Parties and civil organizations, amongst them Mosharka (national focal point of Social Watch), demand that Egypt's military council and government take responsibility for Abbassiya violence. The groups call for an independent committee to investigate the episode, as they compare it to the infamous 'Battle of the Camel'.
Twenty-one political groups which are currently participating in the Tahrir Square sit-in released a statement on Monday condemning the violence which took place in Cairo's Abbassiya district, when thousands of demonstrators were attacked as they were marching towards the military council headquarters, reported Al Ahram newspaper.
The statement compared the incidence to the "Battle of the Camel", when Tahrir Square was attacked by hired thugs before the ouster of Mubarak, and demanded that both the ruling military council and the government take responsibility for the violence.
The statement further condemned the media-publicised accusations released by the military council against the April 6 Youth Movement and political movement Kifaya, describing it as an attempt to create strife between the revolutionaries and the people.
The statement added that while the military council claims that the revolutionaries are trying to create strife between the army and the people, in fact the council is creating strife between the people and the revolutionaries.
The statement blamed the violence on the military council's statements inciting hate against demonstrators, causing the death of at least one and leaving hundreds injured. The political groups further demanded that an independent committee is formed to investigate the violence and the official media declarations made prior to the incident in Abbassiya.
The undersigned groups included the Revolutionary Youth Coalition, the National Front for Justice and Democracy, the Free Egyptian Movement, the Popular Committees for the Defence of the Revolution, the Democratic Workers Party, the Egyptian Social Democratic Party, the Mosharka Movement (Participation Movement), the People's Alliance Socialist Party, the Bedaya Movement (Beginning Movement), El-Waay Movement (Awareness Movement), the Egyptian Current Party, the Progressive Youth Coalition, the Lotus Youth Coalition, the Coordinating Committee for the Awareness Movement Coalition, the No to Military Trials Campaign, the independent ElBaradei for President Campaign, the Justice and Freedom Youth Movement, the Socialist Renewal Current, the Revolution Youth Union, the Democratic Front Party and the Revolutionary Socialists.
The groups warned that, as in the case of the Battle of the Camel, the perpetrators in the Abbassiya violence will be revealed to the public sooner or later.