Fresh biofuel controversy following launch of EU sustainability schemes
Published on Wed, 2011-07-27 07:34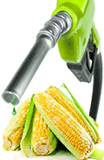 (Ilustration: Eurostep)
Source: Eurostep.
The European Commission launched seven sustainability schemes which will be used to verify actual mitigation impact of biofuels. The launch, however, has raised fresh concerns about the European Union's policy on this matter, with critics arguing those plans fall short in addressing the social impacts of biofuel production, reported Eurostep.
Under the EU's renewable-energy targets, 10% of energy used in transport has to come from renewable sources by 2020. To count towards this target, biofuel has to meet sustainability criteria — for example, it cannot come from areas with a high level of biodiversity or from areas that are rich in carbon.
Certification will be awarded to any company which produces biofuels emitting 35% less greenhouse gases than petrol, with the figure set to rise to 60% in 2018. Companies selling biofuel must show they meet these criteria through a national system or through a voluntary system approved by the EU — the schemes announced last week will ensure such criteria are met.
The schemes were announced last week, on 19 July, by Günther Oettinger, EU Energy Commissioner. The Commissioner hailed the schemes as a "big step" towards climate-friendly transport. The Commissioner also highlighted that the EU had set the highest sustainability standards in the world.
"The schemes recognised at EU level today are a good example of a transparent and reliable system that ensures that these high standards are met," he said.
Oettinger argued further criteria will be needed to address Indirect Land Use Change (ILUC) — the process whereby forests and wetlands are cleared to compensate for lands taken to grow biofuels elsewhere, thus negating the potential mitigation impacts of biofuels.
Kåre Riis Nielsen, director of European Affairs for Novozymes, a member of one of the new schemes, the Roundtable for Sustainable Biofuels, argued "regulatory issues such as the impact of ILUC should be clarified as soon as possible".
However, the World Wildlife Fund (WWF) has criticised the schemes for a perceived lack of definition, verification of resources and sensitivity to land-use issues. In response to the announcement of the schemes, WWF released a statement in support of just 3 of the 7 schemes.
"Two crucial components of the Renewables Directive are still missing: highly biodiverse grasslands are not defined, and effects from indirect land-use change are not taken into account", the organisation argued.
Moreover, the three schemes supported by the WWF are the only ones to "have been developed in multi-stakeholder processes and deliver criteria for social and environmental standards, which go beyond what the EU has set as legal minimum requirements".
More information:
European Commission report