International Year of Youth ends without glory
Published on Tue, 2011-08-02 07:27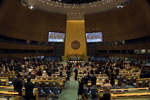 High Level Meeting on Youth.
(Photo: UN)
Sources: UN News Centre, IPS report, UNDP.
The empowering of young people is becoming a key issue in the speeches of many UN high officers as the International Year of Youth is coming to an end this month. All of them agree that there is much to be done to include young men and women in the development and democratisation processes.
"The international community must work to expand the horizons of opportunity for young women and men and answer their legitimate demand for dignity and decent work," when "global economic crisis and austerity measures in many countries are constraining these opportunities," said Ban Ki-moon, Secretary General of the United Nations, at of the UN General Assembly High Level Meeting on Youth convened last week in New York.
"We are seeking to promote a culture of dialogue and mutual understanding between young people and with young people as key stakeholders in today's world," Assembly President Joseph Deiss said as he opened the meeting. "The events of recent months, in the Arab world in particular, have shown us the extent to which young people are key players in our societies and to what extent they can mobilize for change," he added.
The two-day meeting, focused on the theme of "Youth: Dialogue and Mutual Understanding," is one among many events to mark the International Year of Youth, which comes to a close on International Youth Day on 12 August. It concluded with the adoption of a document emphasizing "poverty eradication, the promotion of sustained economic growth, sustainable development and full and productive employment and decent work for all."
High officers of UN agencies also signed a joint statement "advocating for and supporting national efforts to accelerate the implementation of international agreements and development goals as they relate to adolescents and youth".
Empowerment of young people plays a critical role in sustaining inclusive development, UNDP Associate Administrator Rebeca Grynspan said last Friday at the World Congress of the Society for International Development that concluded on Sunday in Washington.
"The emergence of new paths to development has [grown] along with the rise of middle and low-income countries," explained Grynspan, according to an IPS news agency report. "But we have seen that we can also have growth without inclusion."
In the aftermath of the economic crisis, the youth unemployment rate rose from 11.9 percent to 13 percent from 2008 to 2009, the largest annual increase on record, according to ILO's Global Employment Trends for Youth Report 2010. Some 81 million young people were struggling to find work at the end of 2009 across the world.
Responding to questions on the linkage between democracy and equitable growth, Grynspan showcased Latin America as a case study: one in every four young people in the region is not studying and not working.
"If that's not exclusion, then I don't know what is," she said. "Now we need to start thinking about growth without exclusion."
Babatunde Osotimehin, Executive Director of the United Nations Population Fund (UNFPA), also mentioned youth inclusion as a crucial factor for development and democratisation.
"On October 31, we will be a world of seven billion, which is sobering to think about," said Osotimehin at the Congress. "Of this, 1.8 billion will be young people, 90 percent of them in the developing world."
"Half of these will be young women, 50 percent of whom will be in vulnerable situations, living without access to education or health. If these people are going to be the caretakers of the world, then we need to invest heavily in their education, including sexual and reproductive education and access to information and services," he added.
The challenges are huge, according to a briefing paper presented recently by the UN Programme on Youth. Girls' primary school completion rates are below 50 percent in most poor countries. One in seven girls in developing countries is married before age 15, and 38 percent are married before age 18.
"Despite their potential, the most marginalized, vulnerable and hard-to-reach adolescent girls are often invisible. They are not prioritized in many development programmes. Many youth-serving programmes tend to benefit older, educated, urban, and largely male youth. Not only is investing in girls and young women a human rights imperative, but it is one of the smartest investments any country can make," adds the document.
"Adolescent girls, many on the verge of adulthood, face many challenges. They are discriminated against as females, and consequently face diminished opportunities and choices. They are often poorly educated, subject to serious health risks, and threatened by violence. Their views and concerns are often unheard."
More information
International Year of Youth
Joint Statement of the UN Inter-Agency Network on Youth Development