Zambia: Women postponed in the electoral campaign
Published on Mon, 2011-08-15 06:18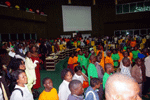 The Zambia We Want Campaign
launch. (Photo: Women for Change)
Sources: IPS, Women in News
Women must "start working hard" to have a stronger political representation and to include gender issues for the 2016 elections, given they are not properly represented for the September 20 general elections, said Emily Sikazwe, the executive director of Women for Change, a gender focused non-governmental organization working with communities, especially women and children in rural areas and national focal point of Social Watch in this African country.
The prospects for women being elected look bleak, according to Sikwaze, interviewed by journalist Ephraim Nsingo for IPS news agency. The Forum for Democratic Development (FDD) nominated the only woman, Edith Nawakwi, to contest the presidential race. There are 15 presidential candidates. The ruling Movement for Multiparty Democracy (MMD) has only 19 women out of 150 parliamentary. The rest of the political parties did not publish their lists, but women's rights activists feel there will not be much of a difference, wrote Nsingo.
With slightly over one month left before the elections, Sikazwe said it only makes sense now for the women's movement to start preparing for the next elections in 2016.
"We cannot resolve that (under-representation of women) now, but it is a challenge for us to start working and make sure that come 2016, we will be ready. In the next five years we will have to work hard in addressing these issues. Watch us after five years," said Sikwze.
Political parties were also causing unnecessary tension among women by replacing experienced female candidates with inexperienced ones. "This is how men make women fight, replacing females with females. This is a bitter lesson for us as women. A lot of women gave themselves to (their) political parties, but they have been slapped in the face," explained the executive director of Women for Change.
"Some women who were in the previous parliament worked hard in their constituencies, but they were replaced. This presents a challenge for us having to (work) with new people over and over again," Sikazwe said.
Nawakwi's nomination has not really inspired Sikazwe. "Symbolically, yes, we say we are happy she is filing. But we know she is not winning. There is currently a lot of hate language and this does not inspire women to participate," added Sikazwe.
In the last parliament, there were 22 women out of 158 members in the National Assembly, accounting for a 14 percent female representation.
Zambia is a signatory of the Southern Africa Development Community Protocol on Gender and Development, which commits member countries to have 50/50 representation of women in all decision- making positions, including the political arena, by 2015. But the Zambia's political parties have not reflected this in their adoption of female candidates.
"We have been looking forward to this occasion," said to IPS Beatrice Grillo, the chairperson of the Non-Governmental Organisations Coordinating Council (NGOCC), an umbrella body for women's organisations "We will support Nawakwi not because she belongs to any party, but because she is a woman. We want to see an end to the poverty that is in this country. We want the women of Zambia to stop struggling. Those are the issues we are looking for and that is what she has promised."
"Nothing and no one will stop me now," said to IPS candidate Nawakwi. "I believe that Zambia will only be saved by a woman and that Zambia is ready for a woman president. As soon as the men heard I was contesting, they all panicked. I will work and deliver like I delivered when I was minister of finance."
Women for Change has been working for months to increase the participation of citizens, both women and men, in the campaign towards the general elections to be held next September.
"The Zambia We Want" initiative, launched last year, aims at building the capacity of citizens, elected leaders and other duty bearers to engage in the democratic process. WfC promotes a meaningful citizen-leaders dialogue based on mutual accountability; it empowers citizens to demand policies that promote good governance; and develops a continuous monitoring of the electoral promises.
"The civil society organisations noted that Zambia's development was driven by a small elite group --the politicians. These people set the country's development agenda without the full participation of the majority of Zambians, contrary to the idea of Zambia being for all Zambians," wrote Mathews Liyani for last edition of WfC's newsletter.
"There are women like us who really would love to join politics, but because there is no one to support us, we fail," said Zozi, a fish vendor, to Dando Mweetwa, Women in News' correspondent in Lusaka.
She says. "I am [illiterate], poor and, above all, a woman. I don't think anyone would support me. It's always sad to see women dancing at the airports and political rallies, and voting in large numbers, but not much is done to support these women. We want change, and it is by putting women in powerful political positions that we can have such change," she added.
Article 183 of a 2010 amendment to the Zambian Constitution sets a 30-percent minimum for women and men in the National Assembly, but the constitution hasn't been approved yet.
More information
Women for Change strengthens political participation: http://bit.ly/oZpSXa