Yemen: Justice needed to stop abuses
Published on Mon, 2011-09-26 09:10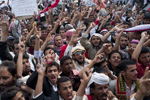 Demonstration in Yemen.
(Photo: HRITC)
Yemeni people are suffering from a deteriorating human rights and security situation, and the abusers should be subject to justice in order to restore stability and to allow a political dialogue, warned Ezzadin Al-Asbahi, director of the Human Rights Information and Training Center (HRITC, focal point of Social Watch) last week. Al-Asbahi took part in an interactive dialogue at the Office of the High Commissioner for Human Rights about the crisis in the Arab country.
In regard to a report published this month by a UN human rights assessment mission to Yemen that took place from 28 June to 6 July, Deputy High Commissioner Kyung-wha Kang said the Government cannot use the the fight against "terrorists" and supporters of Al-Qaeda argument as a pretext to attack peaceful demonstrators.
The mission identified serious violations including arbitrary arrests and cases of torture and withholding of medical treatment to political prisoners as a reprisal for taking part in the protests. The UN experts recommended that the Government of Yemen end all attacks on civilians, the unconditional release of all people detained for peaceful protesting, in addition to independent investigations into human rights violations.
The report calls for immediate actions to protect civilians, to respect the right to peaceful demonstration and to address the "deteriorating humanitarian situation" in the country.
There should be an investigation into the violence with the perpetrators subject to justice in order to restore stability and to permit a political dialogue, agreed Al-Asbahi. He also asked the High Commissioner for Human Rights to establish an office to investigate the situation of all journalists and media workers subject to violence and detention, along with their immediate release.
The people of Yemen are also suffering from electricity outages, water shortages and widespread famine, said Al-Asbahi.
Abu Bekr Abdullah Al-Qirbi, Minister of Foreign Affairs of Yemen, said that it could be possible to establish an independent and neutral national commission formed by all parties to investigate evidence-documented violations.
The report by the UN human rights office stresses the need for "international, independent and impartial investigations" into allegations of human rights abuses related to the peaceful protest movement in Yemen since the beginning of this year.
"The Mission observed an overall situation where many Yemenis peacefully calling for greater freedoms, an end to corruption and respect for rule of law were met with excessive and disproportionate use of lethal force by the state," the report states. "Hundreds have been killed and thousands have suffered injuries including loss of limbs."
The assessment team witnessed the deployment of tanks in Ta'izz and shelling of the city at night. It also observed signs of collective punishment, causing severe hardship to the civilian population, including disruption of access to electricity, fuel and water.
The report notes that "both the Government and some of its armed opponents have sought to present themselves as protectors of the civilian population and to blame the other for the suffering and hardship that has been brought upon them. All sides may be guilty of using and abusing peaceful protesters and the civilian population in this increasingly violent power struggle." It calls on armed opponents claiming to protect the protestors to remove all weapons from public areas of peaceful demonstration.
The report notes credible allegations of serious human rights violations committed by the Government security forces, including the killing of civilians, excessive use of force, arbitrary detention, and torture and ill treatment. In a number of instances, Government security forces prevented wounded demonstrators from accessing hospitals or turned away doctors or ambulances. There were also reports that security forces shot at ambulances on more than one occasion. The report concludes that security forces were not properly trained or equipped to fulfill their functions in compliance with Yemen's obligations under international human rights law.
Source
Human Rights Council: http://bit.ly/bIffbK
HRITC: http://bit.ly/oqiRIz
»