Bangladesh: Men and women fight for equal rights to the land
Published on Tue, 2011-10-04 08:33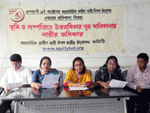 National Committee press conference.
(Photo: EquityBD)
The Government of Bangladesh must take steps to ensure women's equal rights to land and inheritance, urged civil society organizations. "Men and women have to fight together to establish women's right," said M Rezaul Karim Chowdhury, member of Equity and Justice Working Group (EquityBD), an alliance of several Bangladeshi groups and individuals.
As several CSOs prepare to observe the International Day of Rural Women on October 15, their representatives remembered on Saturday in a press conference that national policy is not clear on the matter, although different international conventions and constitutional clauses recognizes women's equal rights.
A CSOs' statement, read by advocate Shamina Sultana, president of Khulna district unit of the National Committee to Celebrate International Day of Rural Women, also evaluates that Bangladeshi society needs greater awareness on the subject and that the state has to ensure women's equity on land and inheritance.
The organizations announced activities —such as rallies, seminars and press conferences— in every district of country to observe the International Day of Rural Women with the theme "Claim and ensure rights over land and inheritance for women".
There will be awards to families who set examples in giving due shares to women and to men who assure equal land heritance to their sisters, daughters and other family members.
"A cultural awareness over women's right should be increased", Chowdhury said.
The National Women's Development Policy (NWDP), approved by the Government on March, includes, among others, a provision of an equal share for women in property and opportunities in employment and business.
"The approval of the NWDP has created a great scope for the advancement of women empowerment," stated Shirin Sharmin Chowdhury, State Minister for Women and Children's Affairs. Women's rights groups have also backed the Government, urging an early implementation of the policy.
The policy's Section 23.5 speaks about opportunity and participation in employment, wealth, market and business for women. Section 25.2 seeks to give women full control over the wealth they accumulate through earning, inheritance, loans and market management.
The NWDP recognizes to women "full control over their right to land, earned property, health, education, training, information, inheritance, credit, technology and opportunity to earn" and suggests the Congress to "enact necessary new laws to put these rights into practice."
This new policy also orders to "ensure women's rights in the formulation and implementation of economic policies (for sectors like trade, currency and tax)."
More information
Bangladesh in Social Watch: http://bit.ly/qlbWGy
This information is based on data from the following sources:
EquityBD: http://bit.ly/oINSKr
Asian News Network: http://bit.ly/fF2ar
Pukhtoonistan Gazette: http://bit.ly/qqv5bd
The Daily Star: http://bit.ly/crXLum
The Financial Express: http://bit.ly/rpDlUh
»