Protests to "make sure economy and democracy work together"
Published on Mon, 2011-10-17 12:03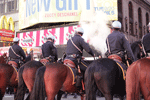 Mounted NYPD at Occupy Wall
Street
(Photo: Thimoty Krause/Flicrk)
Tens of thousands people took the streets of New York, Vancouver, Madrid, Rome and dozens of other cities in North America, Europe and other regions this weekend, to protest against corporate greed and the steps taken by the governments to put an end to the economic and financial crisis. This movement "is taking off all over the world," said Armine Yainizyan, expert with the Canadian Center for Policy Alternatives, one of the focal points of Social Watch in that country.
The demonstrations took place few hours after the launch of the most recent edition of the Basic Capabilities Index (BCI), published by Social Watch last Friday. The report revealed that progress on education, health and nutrition was slower after the year 2000, when global economies were booming. "Now the most vulnerable people and countries will suffer disproportionately from global economic stagnation," said Roberto Bissio, coordinator of this a network of citizen organizations monitoring social policies around the world.
"A lot of people" think the "Occupy Wall Street" and its variants and "indignant's" movements are "going to fizzle out because they've got no central goal, there's not one specific thing they want," said Yalnizyan, interviewed by News 1130, a radio station in Vancouver.
But, she added, "this is not just about taxing the rich, or only getting our governments to pay attention. It's about the whole thing, the bigger picture. It's about making sure both the economy and the democracy that we live in work together for the majority."
Yalnizyan doesn't think this is about to dissipate anytime soon because the lower and middle classes have simply had enough of the upper class. "People are sick and tired of watching the financial heavyweights say the government should get out of the way, except when things go belly-up for themselves and suddenly they need help themselves. This is what Occupy Wall Street is all about, this is why it's taking off all over the world."
"The policies we have in place are get rich policies, but the vast majority of Canadians are not getting rich," she says. "The bottom line is: we need the rich, they need us, so let's figure out how to balance things better."
Roughly 100 people who camped out overnight at the Art Gallery say they'll remain there to show support for Occupy Vancouver. No arrests were made during the first day of the movement on Saturday when nearly 5,000 people marched throughout the downtown core.
Across the Atlantic, hundreds protested in the heart of Toronto's financial district, reported Associated Press news agency (AP). Some of the protesters announced plans to camp out indefinitely in St. James Park. Protests were also held in other cities across Canada from Halifax, Nova Scotia, to Vancouver, British Columbia.
"No one has tried this before, the idea of occupation, the idea of staying until people are heard," Yalnizyan told AP. "This is a chance to start the conversation we should have had after 2008 when the recovery didn't work, when the global economic house of cards came tumbling down. This is a foundational conversation about democracy and our values."
AP reported that 1,000 demonstrators marched again in New York on Saturday, tromping through the streets of the financial district to protest the role that big banks played in the U.S. financial crisis. Some protesters went inside a Chase bank branch to close their accounts. Later, police arrested 24 people at a Citibank branch in Manhattan.
Violence broke out in Rome, where police fired tear gas and water cannons at some protesters who broke away from the main demonstration, smashing shop and bank windows, torching cars and hurling bottles. Dozens were injured.
Tens of thousands nicknamed "the indignant" marched in cities across Europe, Australia, Asia and in South Africa, according to Associated Press.
In Spain, the Indignant Movement held evening marches Saturday that converged on Madrid's Puerta del Sol plaza. Organizers said 300,000 people took part. Other Spanish cities including Barcelona, Seville, Valencia and Malaga hosted similarly well-attended gatherings.
Nearly 1,500 gathered Saturday for a march past banks in downtown Orlando, Florida. About 50 people ranging from college students to older people met in a park in downtown Jackson, Mississippi, carrying signs calling for "Health Care Not Warfare."
Some made more considerable commitments to try to get their voices heard. Nearly 200 spent a cold night in tents in Grand Circus Park in Detroit, donning gloves, scarves and heavy coats to keep warm.
Hundreds more converged near the Michigan state Capitol in Lansing with the same message, the Lansing State Journal reported. In Pittsburgh, marchers also included parents with children in strollers. The peaceful crowd of up to 2,000 stretched for two or three blocks. In Denver, about 1,000 people went to a rally downtown in support of the movement.
Rev. Al Sharpton, a prominent civil rights leader, led a march in Washington that was not affiliated with the Occupy movement but shared similar goals. His rally was aimed at drumming up support for President Barack Obama's jobs plan.
"The hard numbers have proved that prosperity does not trickle down," said Bissio of Social Watch, at the launch of the Basic Capabilities Index in the Netherlands. "It used to be common sense that a growing economy benefits the poor, that a rising tide will lift all boats, big or small, or that the pie has to grow first before we can share it," he added. But the figures published by Social Watch seem to show the opposite.
The average world per capita income more than doubled between 1990 and 2011 and the World Bank claims that the percentage of persons living with under one dollar per day (or U$S 1.25 when adjusted for inflation) was cut to half between 1980 and 2005. But the basic indicators of child mortality, attended births and primary education measured by the BCI showed slower progress during the prosperity that followed the year 2000 than in the previous decade.
Earlier this year, the Canadian Centre for Policy Alternatives released its report "Recession-Proof: Canada's 100 Best Paid CEOs". According to the study, Canada's best paid 100 CEOs earn a year's worth of minimum wage work by 3:15 p.m. on New Years Day.
The total average compensation for Canada's best paid 100 CEOs was $6,643,895 in 2009—a stark contrast from the total average Canadian income of $42,988 and the total average minimum wage worker's income of $19,877. And even in the worst of recession, Canada's best paid 100 CEOs earned, on average, 155 times more than Canadians earning an average income.
More information
The boom and the busted: http://bit.ly/oKsgq7
Basic Capabilities Index 2011: http://bit.ly/nCMTBZ
This information is based on data from the following sources:
News 1130: http://bit.ly/UFeoN
Associated Press via WSAV.com: http://bit.ly/fDW3OR
»