Canada's fossil fuel exports a threat to global climate
Published on Thu, 2011-12-01 08:46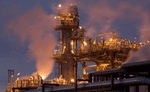 Strathcona refinery in Vancouver.
(Photo: Imperial Oil)
Greenhouse gas emissions embodied in Canadian exports of fossil fuels in 2009 were 15% greater than the emissions from all fossil fuel combustion within that North American country, and almost four times the emissions from extracting and processing fossil fuels in its territory, according to a study released this week by the Canadian Centre for Policy Alternatives (CCPA).
To get serious about climate change, Canada needs to not only cut its consumption of fossil fuels, but also stop peddling fossil fuels in export markets, says the report, released on Tuesday by the CCPA, one of the focal points of Social Watch in that country.
The study is known as the same time that the United Nations Climate Change Conference is been held in Durban, South Africa.
"Canada is more than an addict to fossil fuels," says CCPA Senior Economist Marc Lee, the study's lead author. "We are a major dealer. And that has huge consequences for people in other parts of the world who have done little to cause climate change."
Canada's confirmed fossil fuel reserves are equivalent to 91.4 Gigatonnes (Gt) of CO2 emissions, about three times annual global CO2 emissions. Total possible reserves (given changes in technology and economic conditions) are much higher, equivalent to almost 40 years of global emissions at current levels.
"When it comes to carbon, Canada has 'the bomb'," Lee says. "The vast majority of our fossil fuel reserves must stay in the ground if we are to have any chance at stabilizing the global climate system."
The study argues that Canada cannot meet its international emissions commitments under the Copenhagen Accord without confronting GHG emissions from the oil and gas sector, and urges the country to provide climate leadership by changing course.
"In order to become part of the climate change solution, Canada needs to impose a moratorium on new coal mining and oil and gas extraction projects," Lee concludes.
More information
Peddling Greenhouse Gases: What is the Carbon Footprint of Canada's Fossil Fuel Exports? (in PDF format): http://bit.ly/uq10Vo
Source
CCPA: http://bit.ly/XEX7n
»