Malaysia: Organic compost, food for big and healthy vegetables
Published on Thu, 2012-01-26 07:45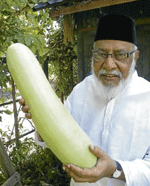 CAP president S.M. Mohamed Idris
showing a huge gourd.
(Source: New Strait Times)
Do you want to know the secret of growing big and healthy vegetables without a drop of chemical fertiliser? The Consumers Association of Penang's (CAP, one of the focal points of Social Watch in Malaysia) teaches you how to do it at its organic garden on Jalan Mesjid Negeri.
Using its own vermicompost and fertilisers, CAP has produced bottle gourds weighing 4kg and measuring 46cm within 40 days. "Panchakavya organic growth promoters and earthworm fertilisers were used to grow these bottle gourds," said CAP education officer N.V. Subbarow.
CAP had successfully planted chillies, brinjals and lady's fingers for the past four years, noted Subbarow. "We have been experimenting growing the vegetables in our organic farm from time to time using recycled waste from vegetables and fruit peels. The success of the huge bottle gourd is proof that you don't need even a drop of chemical fertiliser to grow healthy and fresh vegetables," he added
Subbarow said one vine could produce five to six gourds. It is usually used to make soup and salad.
CAP held in December, at the Botanic Gardens in Penang, a three-day fair to introduce Malaysian people techniques and methods of organic production at home for a greener, healthier and safer future.
The organization showed at the fair methods used by Malaysian and Indian farmers to grow organic vegetables in safer and more productive ways than modern chemical agriculture.
Besides highlighting CAP's sustainable consumption and natural farming project, farmers trained by the organization exhibited and sold herbal plants, seedlings, organic vegetables, natural fertilizers, herbal pest repellents, compost, composting units, handicrafts made from natural raw material and herbal drinks for sale.
They also showed how to compost and make natural pest repellents.
CAP has embarked on this campaign as it found that plant diversity is disappearing due to farming system intensification, monoculture and development of high-yielding varieties. The loss of local species and varieties has increased the vulnerability of agricultural crops to sudden changes in climate, and to the appearance of new pests and diseases.
Food production and security depend on the wise use and conservation of agricultural biodiversity and genetic resources, warns CAP. Malaysia is rich in biological diversity, but counts on limited individual and communal skills to manage genetic resources. Minor, non-commercial but highly nutritious crops have not been in focus.
The availability of diversity would enable farmers to grow crops under a range of varying climatic and geographical conditions and would allow farmers to better manage uncertainties, to spread the risks of production, and to sustain livelihood. For example, plants that can be used as pest repellents would enable farmers to control the risks of production such as pest attacks and crop diseases.
Consumers will also benefit because of a greater variety of foods and agricultural products, as well as increased food security. Local indigenous vegetables and herbs have tremendous value of nutrients and medicinal values and we should tap on these rich resources, according to CAP's experts.
In recognizing the importance of agriculture biodiversity as source of food, medicine, fibres, by-products and other uses, we the people, farmers and the government must take measures to ensure the conservation of this important resource, especially minor crops and local, indigenous varieties.
CAP also published its Guide to Organic Farming, a black-and-white manual on composting, vermiculture, growth promoters and natural pest control and Natural Farming for Earth's Sake - to improve yields, enhance food values, improve soil fertility and protect against pests, Pest Repellents – A Guide to Managing Pests in Natural Farming and Herbs in Daily Life – a guide for consumers to herbs in daily life for good health and many other CAP books and guides.
Sources
New Strait Times: http://bit.ly/xpiylr
CAP: http://bit.ly/xosIFb