Tunisia: Thousands marched against violence and extremism
Published on Tue, 2012-01-31 07:43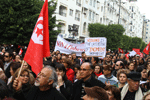 Photo: TunisiaLive
Thousands of demonstrators chanted "No to violence", "No to extremism", "No Niqab, no to Salafism" and "Universities are free, extremism out," at a march that took place in Tunis last Saturday, convened by political parties, unions and civil society organizations calling for freedom of expression. Violations and assaults committed by a group of Salafists against residents of Sejnane were confirmed by Abdel Sattar Ben Moussa, President of the Tunisian League of Human Rights (LTDH, one of the national focal points of Social Watch).
However, Ben Moussa denied the establishment of a Salafist Emirate in that area. "The Salafist phenomenon is present throughout the country. The reason it was able to proliferate in Sejnane is due to the lack of security or functioning government institutions in the area," said the activist.
Ben Moussa asserted that although Sejnane is rich in natural resources, it lacks infrastructural development. The government's neglect of the area led to a poverty rate of 80% and an unemployment rate of approximately 54%.
Protesters condemned on Saturday the violent attacks – whether verbal or physical – on citizens, including national figures, politicians, activists, and media figures, the recurrence of violence in different parts of Tunisia and the escalation in the prevalence of fundamentalist rhetoric, that also involves some members of the National Constituent Assembly.
Slah Ourimi, a lawyer with the LTDH, said the signals the government leaded by Ennahda party is sending are still "too shy" while the extreme right was "launching trial balloons" to test Tunisian society's tolerance.
"Students being assaulted, journalists beaten, exams disrupted -- what is happening is very serious and very dangerous," Ourimi said. "The government has taken small steps in recent days. But we want a clear, determined position and that the government stands up completely to these radical groups that are against the republic and against democracy."
The demonstrators called on the interim government to take necessary measures to stop the spread of this phenomenon.
Mourad Belaid, co-founder of Citizens Front for Democracy (FCD), stated that he participated in the march because he is against all types of  fundamentalism and extremism.
Abed Karim Alagui, a university professor, said that there are many dangerous violations taking place, including the Manouba University salafist protests and the violent attacks on professors and journalists. "Our freedom is being violated. I am for dialogue, and Tunisia is for all Tunisians."
Hamadi Redissi, a political science professor, was a victim of a salafist attack outside of a courthouse where Tunisian TV executive Nabil Karoui was to be tried for blasphemy and disturbing public order. "We must support freedom and defend our rights," he added.
Oppositional political parties participated in the march, including the Progressive Democratic Party (PDP), Afek Tounes, and Republican Party. "I am against any sort of violence or extremism in our country," he asserted. "The government needs to take a stand and find a solution to this," said Naseur Bjewi, a PDP member.
At the beginning of January, teams of journalists from France 2, France 24, the French newspaper Liberation and the Tunisian newspaper La Presse traveled to the Northwest Tunisian city of Sejnane in the hopes of filming local residents who had been aggressed or attacked by "the Salafis of the village" who "have been terrorizing residents for some time," according to Kapitalis.com.
"There was a crowd movement. I was in the middle of filming it [when] a group of youth abruptly came in our direction and kicked my camera hard. We were able to get away from those people, with whom we exchanged no words," reported David Thomson, of France 24 television channel.
The group of journalists arrived in Sejnane in the company of officials from the LTDH.
Sources

Tunisia Live: http://bit.ly/xRJLwu

Kapitalis.com (in French): http://bit.ly/yOvwxj

Zawya: http://bit.ly/wnmh0i
»