Tunisia: Civil society focuses on ways to promote post-Revolution media
Published on Thu, 2012-02-16 07:30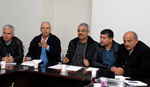 Photo: Tunis-Afrique Press
The situation of media in post-Revolution Tunisia and ways to promote it were discussed at a meeting attended by National Constituent Assembly (NCA) members, representatives of the Tunisian General Labour Union (UGTT), the National Independent Council for Information and Communication and the Tunisian League for Human Rights (LTDH, member of the Social Watch national coalition).
The conference, held on Friday at UGTT's headquarters, provided the opportunity to highlight the need to co-ordinate between the civil society, organizations, structures and all parties that defend freedom of speech and expression and independence of the press.
Members of the Constituent Assembly expressed their will to defend freedom of speech and expression and called for proposing a joint project between the UGTT and the civil society.
They emphasized the need to work in collaboration with the sector's professionals through the National Union of Tunisian Journalists and the National Authority for Information and Communication Reform (NAICR) to lobby for enshrining the freedom of press in the new Constitution.
Source
Tunis-Afrique Press: http://bit.ly/zPgSnu
»