Tanzania: Government urged to repeal discriminatory laws based on gender
Published on Tue, 2012-03-06 11:22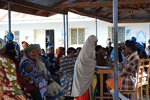 Women's health clinic in
Tanzania.
(Photo: advencap/Flickr/CC)
The Southern African Human Rights NGO Network (SAHRINGON) Tanzania Chapter, national focal point of Social Watch, has urged the government to amend or repeal all discriminatory laws based on gender for the country to achieve the equality between men and women provided by the Millennium Development Goals (MDGs), reported Tanzanian newspaper The Guardian.
Journalist Rose Mwalongo gave an account of the recommendations made by SAHRINGON, including the rejection of the Customary Law Declaration Order of 1963 that bans women from inheriting land from their deceased husbands.
The study explains that under a law approved in 1995 "a woman who is married to a Tanzanian citizen is entitled to be naturalized, but the opposite is not possible".
According to SAHRINGON, a law in force since 1971 allows the marriage of girls even below the age of 15, meaning it condones the marriage of minors because another law, approved in 2009, defines a child as any person under 18.
Activists have warned about the current discriminatory legislation. In 2010, the Legal and Human Rights Centre, in collaboration with other civil society organizations, identified the biased laws still applicable in the country.
According to the Gender Equity Index (GEI) 2012, prepared annually by Social Watch and published this week, Tanzania has achieved a "low" level in equity between men and women in education (71, with a maximum of 100) and in economic participation (68), and a "very low" level in political empowerment (42). The average of those three dimensions reaches 60 points that rank that country among those with "very low" GEI.
Tanzania's score seats eight points above Sub-Saharan Africa's average --which is 52--, and is also higher than those of its neighbours Democratic Republic of Congo (36), Zambia (49), Kenya (58), Mozambique (58) and Malawi (59), but lower than those of Uganda (63), Burundi (69) and Rwanda (77).
South Africa (79), Rwanda (77) and Namibia (77) are the three countries at the top of the Sub-Saharan Africa's list. The three countries of the region that present largest gaps are the Republic of Congo (29), Niger (26) and Tchad (25). They are also among the five countries in worst condition out of the 154 computed by the IEG 2012, followed by Yemen (24) and Afghanistan (15).
Norway, Finland and Iceland are at the top of Europe and also the world, with 89, 88 and 87 points respectively.
Sources
The Guardian: http://bit.ly/xq0MLC
Gender Equity Index 2012: http://bit.ly/yccZ0t