Philippines: Social Watch finds government's growth targets difficult to achieve
Published on Thu, 2012-03-15 13:45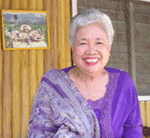 Leonor Briones
The impact of typhoons, earthquakes, climate change and other external factors make it difficult for the Philippines to reach its economic growth targets of 5 percent to 6 percent this year and 6 percent to 7 percent next year, warned Social Watch Philippines this week.
Prof. Leonor Briones, lead convenor of Social Watch Philippines and former Treasury chief, said the country's growth prospects face these problems.
"We're still recovering from these disasters," she said, according to GMA News Online.
Social Watch is an international network of citizens' organizations that aim to eradicate poverty and the causes of poverty, to ensure an equitable distribution of wealth and the realization of human rights, according to its website.
The economy grew 3.7 percent last year on government underspending, lower global demand and natural disasters. Social Watch said the Congress should immediately pass Senate Bill 2857 and House Bill 3773 to institutionalize the participation of civil society organizations (CSOs) in the yearly preparation of the national budget.
The bills "have been delayed in Congress where [they have] not been a priority," said Briones.
SB 2857 is authored by Sen. Teofisto Guingona III, and HB 3773 is by Rep. Lorenzo Tanada III.
Briones said the Senate allows CSOs to participate in budget hearings.
"What we're asking the Senate is to accredit a number of CSOs to represent civil society in the budget preparation," she said.
"We're still being heard, despite the delay in budget preparations and the absence of a law instituting citizen participation," she added.
Government should have started the budget preparations right after the 2012 General Appropriations Act was signed into law on Dec. 16, 2012, according to Social Watch.
The policy guidelines and procedures in preparing the 2013 budget proposals were issued on Dec. 29, 2011, and posted online last Jan. 15.
Its macroeconomic assumptions, fiscal targets and budget ceilings were issued on Jan. 31, 2012 and posted online last Feb. 29.
The Aquino administration has proposed a P2.006-trillion budget for 2013, up 10.5 percent from P1.816 this year, based on revenue collections of P1.780 trillion and P241-billion total deficit.
The 2013 budget assumes a real GDP growth of 6 percent to 7 percent, inflation at 3 percent to 5 percent, foreign exchange at P42:$1 to P45:$1, and 364-day Treasury-bill rate of 3 percent to 5 percent. Skeletal data
Under the 2013 budget, P1.007 trillion would go to personal services and other operating expenses, with 28.5 percent of P1.007 trillion going to the Department of Education, 25.4 percent to the Department of Interior and Local Government, and 15.8 percent to the Department of National Defense.
The remaining P998.43 billion will likely support government-owned and -controlled corporations, local government units, calamity fund, contingent fund and unprogrammed fund.
"The data we got were only skeletal. There were no details. The budget was incomplete and its total picture is not available," Briones said.
"What the government released covers only one-half of the total budget, which excludes special purpose funds and debt servicing," Briones added.
Source
GMA News Online (via Yahoo! News Philippines): http://bit.ly/z4GMys