Bangladesh: IMF loan is "anti-poor"
Published on Tue, 2012-04-17 08:31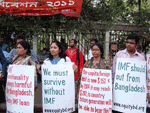 Protest against the IMF in Dhaka
Equity and Justice Working Group (EquityBD), a Bangladeshi alliance of rights-based civil society organizations, urges the government in Dhaka to open public and parliamentary debates in case of receive foreign loans in the name of assistance and development. The statement issued by the coalition in its regard refers to a 987 million dollars loan approved last week by the International Monetary Fund (IMF).
In the statement, EquityBD said that the loan will not benefit the Bangladeshi people, because it is tied to conditionalities that have proved to do great harm to poor population of many developing countries.
The loan was approved under the IMF's Extended Credit Facility to help Bangladesh to overcome macroeconomic pressures and to build a reserve buffer, according to the Fund's web site.
"The amount represents the largest loan ever offered to a member country under the IMF's reformed concessional lending architecture, and is to be staggered across seven equal installments, with a disbursement of $141 million to be made available immediately," reported the international financial institution based in Washington.
The government has promised the IMF to raise the value-added tax (VAT), to automatically adjust the price of fuel, to reduce subsidies and to deregulate imports, warned EquityBD. The civil society alliance described those conditionalities as "major anti-poor policies in Bangladesh and also in other so-called developing countries."
The coalition forecasts that the poor people will pay the cost of the strings attached to the IMF loan with a deterioration of their quality of life and their current economic plight.
According to EquityBD, raising the VAT will also harm small entrepreneurs, considered as the driving force of the economy. "It will hamper the growth of local entrepreneurs and thus create a space for the multinational companies to expand their market," the alliance remarked.
EquityBD criticized the emphasis given by the IMF to the VAT with regard to local resources mobilization, without advising the government to impose property and personal taxes to the rich people and multinational companies.
Sources
EquityBD: http://bit.ly/I4MYZf
IMF: http://bit.ly/IStL9Z
The Bangladesh Today: http://bit.ly/HRsaDR
New Age: http://bit.ly/HKEHqN