Philippines: A project to allow CSOs to get more involved in local public finance
Published on Wed, 2012-04-18 08:36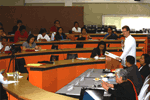 Launch ceremony of the project
last year, at the University of the
Philippines. (Photo: UCA News)
The non governmental organization Code: Reforms for Economic Development (Code: RED) and Social Watch Philippines launched a policy monograph on transparency and accountability in local governance, after several months of workshops in six municipalities to allow grassroots groups to get more involved in local public finance.
According to Code: RED, civil society organizations (CSOs) can be more involved by creating mechanisms that allow them to have a better grasp of local public finance that will eventually lead to their informed participation, and consequently, to a greater transparency and accountability in local governance.
"After all, while access to information might be present, having the capacity to analyze and digest it is a totally different matter," the organization remarked on Friday 13.
The project is headed by Professor Leonor Briones, convenor of Social Watch Philippines and a former national treasurer.
"The amount of money being given to local governments is nearly as much as that of the national government. No one pays as much attention to it as we do to funding at national level. It's important for taxpayers to know what their local government is doing," Briones noted last year, when the project was launched.
Engaging religious groups in the non-sectarian project is "important" to Briones.
"Faith-based groups have strong convictions and are courageous" because they approach corruption as "an issue of morality, not just legal or government issues," Briones said.
The project took off from a memorandum issued by the governmental Department of Interior and Local Government known as Full Disclosure Policy. This regulation requires all local governments to submit and post sources of income, budgets, expenditures, contracts and loans as well as procurement plans. It is aimed to promote orderly management of public finances, minimize the misuse of public funds and increase people's awareness on the available resources in their localities.
Convened by Code: RED and Social Watch Philippines, grassroots organizations of six districts (Valencia, San Jose, Ibaan, Rosario, Tulunan and M'lang) to participate in a capacity-building workshop on local finance.
Through this workshop, the CSOs gained a deeper understanding of how local governments generates, allocates and spends their resources.
The plan received funding from the British Embassy in Manila through the UK-funded project called "Increasing Transparency in Local Governance through Informed Citizens' Participation in Public Finance," the same name of the policy monograph.
The report has five chapters: the introduction, an overview of the Full Disclosure Policy, an accounting of the team experience in the conduct of the capacity-building workshops in six municipalities, and recommendations to the Department of Interior and Local Government and other government agencies together with lessons learned in the past.
The study proposes the following steps:
■ Follow-up the status of the participatory governance contracts of the six municipalities.
■ Special attention can be given to the two municipalities which created joint committees on increasing their tax revenue.
■ Capacity-building program can be developed to help municipalities increase their revenue. This program can be supported by the Bureau of Internal Revenue, the Land Registration Authority, and the Department of Interior and Local Government.
■ The Department of Interior and Local Government can take another look at the way financial information is being collated and interpreted.
Sources
Zambo Times: http://bit.ly/HMzCTu
UCA News: http://bit.ly/pbkMf2