Zambia: Arresting sex workers will not end prostitution, warn NGOs
Published on Tue, 2012-04-24 08:52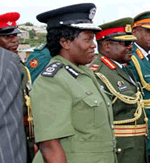 Inspector-general of Police
Stella Libongani.
(Photo: Government of Zambia)
Sex workers who parade the streets of Zambia at night will suffer harsh jail terms or fines in a crackdown that shall commence soon, according to the inspector-general of Police Stella Libongani. The Non-Governmental Organization Coordinating Council said the arrests will not solve the problem, reported the Daily Maill.
Interviewed by the newspaper, Emily Sikazwe, executive director of Women for Change (WfC, focal point of Social Watch in Zambia), said that sex workers should be given alternative jobs before they are 'stripped' of their livelihoods.
Sikazwe believes sex workers are not even happy with this tough and often dangerous activity, but they do it because they have no alternative way of earning money.
Plans by the police to round up sex workers have received mixed feelings from non-governmental organizations that look at the rights of women in Zambia.
"Not all sex workers enjoy being in that field of prostitution. In fact, most of them are driven into it due to lack of decent income-generating activities," Sikazwe said. "So the move by the police is welcome but we need to give them alternative jobs."
The Non-Governmental Organization Coordinating Council chairperson Beatrice Grillo said as along as men have money to buy sex, the vice shall continue. "So, the police cannot just say that they would round up the sex workers. If men were not going after these women, there will be no prostitution around the streets," Grillo added.
Inspector-General of Police Stella Libongani said sex trade is a "public nuisance" and that the offenders will get charged with either idling or disorderliness or both contrary to Chapter 87 of the Laws of Zambia.
The offence attracts a fine or a possible jail sentence depending on the circumstances and evidence produced, according to lawyers interviewed by the Daily Mail.
"Those who will be caught will either be fined or taken to court. But for second and third offenders, they will be taken to court directly even if they have money to pay so that the court can mete out stiffer punishment," she added.
At a press briefing in Lusaka, Libongani spoke tough against prostitution, which she said is getting out of hand in the country, especially amidst HIV/AIDS whose numbers in Zambia are dropping, according to the Ministry of Health.
Libongani also warned police officers not to ask for "sexual favors" from prostitutes because they will be charged with various offences alongside the prostitutes they coerce into sex in return for freedom after they arrest them.
She said police officers are supposed to behave in an exemplary manner during their course of duty.
Source
Zambia Daily Mail: http://bit.ly/Jr6UYo