Bahrain: FIDH demands the immediate release of Nabeel Rajab
Published on Thu, 2012-05-10 14:03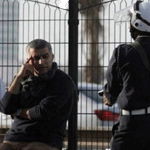 Arrest of Nabeel Rajab and other
activists on February.
(Photo: BCHR)
The International Federation for Human Rights (FIDH) stated this week its grave concern about the arrest of its deputy secretary general, Nabeel Rajab, and the continuing targeting of activists in Bahrain. On May 5th, Rajab, president of the Bahrain Center for Human Rights (BCHR), was arrested after arriving at Manama airport from Lebanon and is currently detained in Al Hawra police station.
The police officers who arrested Rajab –who is also director of the Gulf Center for Human Rights (GCHR)– stated that the Public Prosecution has ordered his arrest, however neither the activist nor his lawyers have been informed of the reasons for the detention.
Rajab had returned to Bahrain last Saturday in order to attend on Sunday the first scheduled hearing against him for several charges –including "participating in illegal assembly and calling others to join"– related to a protest on the 31st March in Manama against the detention of human rights defender Abdulhadi Al Khawaja. Rajab denied the charges against him.
FIDH calls for the immediate and unconditional release of Rajab and other human rights defenders, as this judicial harassment against them seems to be solely aimed at sanctioning their human rights activities.
FIDH also recalls the authorities' obligation to comply with the international human rights instruments ratified by the Kingdom of Bahrain and their pledge to effectively implement the recommendations of the Bahrain Independent Commission of Inquiry (BICI, created by King Hamad bin Isa Al Khalifa as part of an investigation on last year's popular revolt), with regard to "the use of force, arrest, treatment of persons in custody, detention and prosecution in connection with the freedom of expression, assembly and association".
The authorities in Bahrain have used many methods in attempting to prevent human rights defenders from carrying out their work of documenting and reporting on abuses, warned BCHR and GCHR in a press release.
Before the arrest, Rajab declared: "Bahrain in essence lacks a judiciary system that is independent and/or fair, and is far from being in line with international standards of a fair trial. The judiciary system in Bahrain, today, is a tool used against human rights defenders and people calling for democracy and justice."
Nabeel Rajab is a prominent human rights defender and Deputy Secretary General of FIDH, Chairman of CARAM Asia, MENA Advisory member of Human Rights Watch and a Ratiu Democracy Award Winner.
It seems that Rajab could face more charges as he was summoned for interrogation on charges of "insulting the statutory bodies" on 26th April.
In other cases of attacks on human rights defenders, independent activist Zainab Al-Khawaja remains detained with five cases in court. Said Yousif AlMuhafdhah, head of the Documentation Committee at the BCHR, was arrested twice while observing protests, and released after several hours. Abdulhadi Alkhawaja, former president of the BCHR, main founder of the Gulf Centre for Human Rights, and former regional director for the MENA region at Frontline Defenders, was arrested on the 9th April. He was beaten unconscious in front of his family and suffered severe torture before being sentenced to life imprisonment in a military court
Sources
Bahrain Center for Human Rights: http://bit.ly/KvjSCo
FIDH: http://bit.ly/LlDFXQ