Malaysia: Penang's environment threatened by unsustainable development
Published on Fri, 2012-06-08 11:17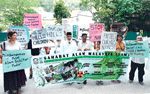 Mohammed Idris lead a protest
in Penang. (Photo: CAP)
The Consumers Association of Penang (CAP) and Sahabat Alam Malaysia (SAM) warned that the beauty of this Malaysian state natural environment is slowly losing its shine due to the rapid pace of unsustainable development.
In conjunction with the World Environment Day on 5th June, CAP, focal point of Social Watch in Malaysia, and SAM urged the state government to ensure that each proposed development that is implemented does not affect the environment and the lives of local residents.
Both organizations remarked that the state is losing its greenery and that the pollution is still prevalent despite the local government's initiative called A Cleaner, Greener Penang.
The rivers are polluted and Penang's mangrove forests, beaches, hills and greenery are slowly making way for development projects, according to the CAP and SAM.
Mohamed Idris, the president of both non-governmental organizations, who has been fighting for the environment during 40 years, said the situation was getting worse as Penang was becoming more and more congested with "monstrous" high-rise buildings and development projects coming up around the island.
The state Environment Department's reported last year that 10 rivers in Penang were classed as polluted, nine were moderately dirty and only five were clean, remembered Idris. Among the polluted ones were the Jawi, Air Itam, Jelutong, Pinang, Juru, and Prai rivers.
In the department's report on marine water quality last year, Idris said, Kuala Sungai Pinang in Jelutong, Kuala Sungai Pinang in Balik Pulau, and Kuala Sungai Prai and Kuala Sungai Juru on the mainland were high in Escherichia coli (E. Coli) bacteria, which indicated fecal contamination. The state also faced natural coastal area destruction due to land reclamation and aquaculture activities.
He added that beaches, such as the Persiaran Gurney beach, were turning into mud flats. "Some 70 per cent of mangrove forests here have been destroyed to make way for development projects. Such threats endanger at least 40 river and marine species. We are also losing water catchment areas. Mud floods are occurring more frequently in villages and housing estates because of soil erosion and sedimentation from hill slope projects in places such as Balik Pulau and Bayan Lepas," said Idris.
The activist, who led members of the NGOs in an anti-hill slope development protest on Jalan Bukit Gambir here to mark World Environment Day this week, also called on the government to stop all projects on hill slopes.
The high-end condominium project, which is being developed by a Kuala Lumpur-based company, features a 31-storey condominium block with more than 140 units, a five-storey car park, a two storey open basement and seven three-storey bungalows that are expected to be ready in three years.
Idris said there was no need for more of these profit-driven projects which offered homes most people in Penang could not afford. "We want our hills and agricultural land to be protected from further development and for forests and mangrove swamps to be gazetted as permanent reserve forests.
Sources
Consumers Association of Penang: http://bit.ly/KOfORh
New Straits Times: http://bit.ly/NmsSh6