Egyptian, Tunisian and Lybian civil societies sign pact of honour against torture
Published on Wed, 2012-07-11 10:25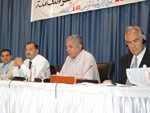 Photo: Association for the
Prevention of Torture
The Tunisian League for Human Rights (LTDH), the Arab Human Rights Organization (Egypt) and the Libyan Human Rights League, among several organizations and activists, signed on Sunday an international Pact of Honour against torture in Tunis, reported TAP news agency.
LTDH President Abdessatar Ben Moussa said that "the pact commits the signing parties to defend and campaign for the respect of human rights and fundamental liberties," stressing that the league will spare no effort to include the principle of criminalising torture in the future Tunisian Constitution.
The pact of honour against torture arrived Sunday in Tunisia, last stage of the tour started last June 1 in Egypt by two cyclists, a Tunisian national and a Libyan one, whose mission was to hand over the document.
Maghreb Co-Ordination of Human Rights Organisations
A delegation of the Maghreb Co-ordination of Human rights Organisations held, on Tuesday in Tunis, a meeting with the press to present the objectives of their action as well as the reality of human rights in the region, according to TAP news agency.
Taking the floor, President of the LTDH Abdessatar Ben Moussa asserted that "the co-ordination is the Maghrebi framework to promote the reality of human rights and disseminate their culture among the young generation."
He said that the co-ordination will strive during the coming days to establish contacts with the different civil society's components in Tunisia, in addition to the organization of meetings with the members of the government and President of the Republic Mohamed Moncef Marzouki.
In turn, Tunisian representative to the Co-ordination Ahmed El Kalaï said that the members of the Co-ordination will see to it to "overcome the difficulties faced by the Maghrebi countries in the human rights field," underlining "commitment to support Tunisia in the success of the transitional justice process."
Founded in 2006 in Morocco, the Maghrebi Co-ordination of Human Rights Organizations was the victim of the draconian policy of the former regime.
It is tasked with the follow-up of the violation registered in the human rights field in the Maghreb.
Sources
Agence Tunis Afrique Press (TAP): http://bit.ly/NKu8b4
Signing in Tunis of International Pact of Honour Against Torture (TAP): http://bit.ly/LHGCnP