Canada: Ottawa-based organizations live under one roof
Published on Mon, 2012-08-06 13:35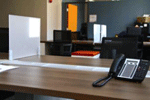 Photo: Xtra!
The Canadian Centre for Policy Alternatives' national office have just been moved to Under One Roof Properties, project that unites Ottawa-based progressive organizations with shared office spaces and facilities, aimed to foster an environment of interaction, collaboration and movement for social change.
The initiative was set in motion by Diane Touchette of the Canadian Centre for Policy Alternatives (CCPA, one of the national focal points of Social Watch). "She wanted there to be a bookstore in the space, and felt strongly that Octopus would be a good fit," said Lisa Greaves, owner of the Octopus Books, to journalist Frankie Leclair, of The Ottawa Citizen news portal.
"I had had a bit of exposure to a similar operation in Toronto (...), so I was familiar with the concept and well aware of how many great things can come from people working together yet separately," added Greaves.
The concept is a community work environment where "individuals or organizations can rent ofice space, desks or just work at a table for a day," she explained. "We will share reception, meeting space, public space and technology. The idea is in part to save on money and environmental impact, but also very importantly, to work together with like-minded people."
Under One Roof is inspired by the Centre for Social Innovation (CSI) in Toronto. CSI's story explains the integrity of the organization in an excerpt of Shared Spaces for Social Innovation: "Many people advised us that we should be franchising, licensing, and holding our knowledge close to our chests. But this went against our values. Instead we are putting this whole series into the Creative Commons for others to benefit from and contribute to."
Sharon Frances, speaking on behalf of Touchette, explained how this type of shared workspace differs from a stand-alone of!ce space. "Obviously you're saving money. You are sharing a space that is designed to promote connectivity. You are also working across different sectors and bumping into people and ideas that could develop into better social solutions and partnerships together," she said.
Under One Roof Properties will own two of seven floors at 251 Bank St by the end of 2012, hopes to take over another in 2013 and plans to buy the building by 2014, said Touchette, director of operations at the CCPA, Under One Roof's sponsor.
The space is affordable and people can settle in for years or rent a desk for the day, she added
The goal is to create a shared workspace for like-minded people and groups engaged in progressive social and cultural missions, but that doesn't mean existing tenants will have to move out, according to Touchette. Tenant participation in Under One Roof and its activities is strictly voluntary.
Touchette hopes community events -- meetings, classes, film screenings, lectures and book launches -- will be a defining feature of the space.
"Ultimately, we hope the space will be what our members make of it. The more participation we enjoy from the local community, the more the visibility of the gay village will be reflected in Under One Roof's activities," Touchette said, noting tenants have been moving in since spring.
There's a spirit of collaboration between tenants, says Rima Zabian, an addictions counsellor at A Better Life.
Tenants are starting to reach out to the surrounding community to build collaborations, she says.
"We're hoping the gay village will let us know what it thinks is missing in terms of services at Under One Roof so we can look to fill the gaps," she says.
When describing the overall feeling of Under One Roof, Greaves calls it "bright and airy" with a "feeling of camaraderie." Adding that for those who will be feeling the stress of financial cuts, this type of work dynamic not only offers financial ease, but also encourages sustainability and is a place where people are simply nice to each other.
"That kind of positive energy is unfortunately a rare thing for many people in their workplaces, and yet so valuable," she said. Her colleague Sharon Frances explained that with this positive dynamic at play, it may take some adjustment for some, but she does reassure people that "the size and feeling" of the space "allows for private moments when required. After a while though, it becomes quite normalized."
And the benefits seem to trump any drawbacks. "When you work cross-sectorally, you are better able to innovate due to differences and diversity which challenges the status quo, challenges similar mindsets and world views," added Frances.
Whether you are an NGO, a freelance writer or a bookstore owner, cross-pollination is a virtue in this type of establishment, and a future of community workspaces like Under One Roof might be an idea worth sharing. "Rather than working in a bubble, there is a constant opportunity to engage with others who are doing important and interesting work," according to Greaves. "The idea of being with people who 'get' what you are doing, and believe in it is priceless. I think we will all be inspired to do more."
Under One Roof will house an art studio, along with all of the usual amenities of an office building such as boardrooms, meeting spaces, a photocopying room and a kitchen. Lectures and book launches can be held in the reception area. In time, there could be a fair-trade coffee kiosk and a rooftop garden.
There are opportunities to share staff, from administrators to translators and accountants, as well as facilities like a media room for interviews and press conferences, Touchette said. The collective plans to start a volunteer bank.
"Hot desks" will be available for short-term rental by workers who are organizing events downtown or who need temporary desk space. Fees will range from 95 dollars a month for five hours of desk time and two hours of boardroom time, to 325 dollars a month for 100 hours of desk time and eight hours of boardroom time, plus free phone and Internet access.
Longer-term tenants will also get access to free Internet and long distance. Rent starts at 500 dollars for one desk, along with limited access to meeting rooms and other facilities. They will pay monthly for their use of the photocopier and mailroom, and everyone has use of the kitchen. A medium size office starts at 1,250 dollars, while a large office with a window is 2,000 dollars a month.
"They'll be sharing a kitchen table and not just a board table," said Touchette.
Under One Roof got off the ground as a registered corporation, but has since re-registered as a non-profit with a board of directors.
In the face of funding that is shrinking or has dried up, workplace collectives are a boon for NGOs because they allow small organizations to be sustainable and share economies of scale, says Greaves. "Environmentally, it makes tons of sense. Instead of a bunch of photocopiers, we have one photocopier."
The members organizations of Under One Roof are A Better Life, Action Canada for Population and Development, Canada Without Poverty, the CCPA, Canadians for Choice, CUPE District Council, CUPE local 2204, Galldin + Roberston Law, Octopus Books, rabble.ca, Ray Folkins, CA and Julie Jenkins, CGA and Volunteer Canada.
Sources
Under One Roof: http://bit.ly/Q4uybm
Xtra!: http://bit.ly/MzbK59
OttawaCitizen: http://bit.ly/ModAUG