SOCIAL WATCH E-NEWSLETTER - Issue 96 - August 03, 2012
Published on Fri, 2012-08-03 11:43

Issue 96 - August 03, 2012
The industrialized North pushes the developing South down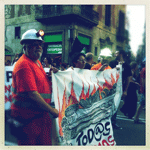 Protest in Barcelona. (Photo:
Davidlohr Bueso/Flickr/CC)
Emerging countries are being affected adversely by the European and US economic situations, according to Martin Khor, executive director of South Centre, in his most recent column for The Star, one of the leading Malaysian newspapers.
Rich countries' demand is falling, as poor countries' exports. Inflows of capital into developing nations have also slowed down, and a reversal to a new outflow situation may well take place. The lending conditions of banks in emerging economies have also deteriorated, explains Khor.
Read more
Tunisia: Constitution defines women as men's "associates"
The newly written constitutional clause protecting women's rights in the Tunisian constitution has angered feminists and opposition politicians with wording that calls women the "associate" of man, reported journalist Mischa Benoit-Lavelle on Tunisia Live news portal.
Read more
Nuclear energy in Malaysia: From "option" to "point of no return"
More than thirty non-governmental organizations have come together to warn against Malaysian government's plan to build two nuclear reactors without consulting the public. Some of the supporters of the statement are the Consumers' Association of Penang, Third World Network, Sahabat Alam Malaysia, Tenaganita, TERAS Pengupayaan Melayu, Women's Aid Organization, Centre for Independent Journalism and Stop Lynas Coalition.
Read more
Ghana: Obuasi, the ultimate example of how mining is developed in Africa
Obuasi, about 200 kilometres northwest of Accra, Ghana's capital, is home to one of the richest gold mines in the whole world. For more than a hundred years the precious metal mined there has been taken to jewellers in the West and beyond, earning millions of dollars for mining companies and their shareholders, wrote journalist Efan Dovi Africa Renewal magazine, published by the United Nations.
Read more
Zambia: Draft Constitution is progressive on gender equality
Zambian civil society organizations, especially those devoted to women's rights, are demanding for the Republican Constitution now on debate to be approved through an assembly and a referendum. The first draft, launched by an official technical committee, contains progressive provisions on gender equality and the promotion of women's rights, said Women for Change executive director Emily Sikazwe.
Read more

The contents of this publication are the sole responsibility of Social Watch and can in no way be taken to reflect the views of Oxfam Novib and the Coalition of the Flemish North South Movement - 11.11.11.