Bahrain: Nabeel Rajab sentenced to three years imprisonment
Published on Wed, 2012-08-22 08:47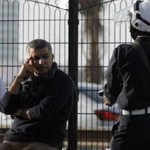 Arrest of Nabeel Rajab and
other activists on February.
(Photo: BCHR)
Nabeel Rajab, President of the Bahrain Center for Human Rights (BCHR, focal point of Social Watch) and Deputy Secretary General of the International Federation for Human Rights (FIDH), was sentenced last week by the Bahraini Lower Criminal Court to three years imprisonment for "involvement in illegal practices and inciting gatherings and calling for unauthorized marches through social networking sites", for his "participation in an illegal assembly" and for his "participation in an illegal gathering and calling for a march without prior notification".
FIDH strongly condemns this sentence and calls for his immediate and unconditional release. Souhayr Belhassen, FIDH President declared: "It's been over a year that the Bahraini people have been peacefully asking for human rights and democracy. How does the government remain so deaf to these calls? Arbitrarily imprisoning human rights defenders will not stop the people from aspiring to freedom and democratic change. We hope that the international community will firmly condemn this decision and will call for Nabeel's release."
On the same day, the Higher Appeal Court also decided to postpone the verdict in the appeal against the decision of the Lower Criminal Court which had earlier sentenced Nabeel to three months imprisonment for alleged libel after he tweeted on 2 June 2012 a message asking for the Khalifa to step down.
All of us Nabil Rajab
The Public Observatory for Human Rights-Bahrain described the verdicts against Nabeel Rajab as "arbitrary". Both "are nullified verdicts, if we consider international law and national legislations […], which do not prohibits peaceful demonstrations and gatherings, but rather regulate them within the framework of preserving the public order, protecting the demonstrators and clearing their way," remarked the organization
"The state abuses the law by prohibiting peaceful demonstrations and gatherings, which are constitutionally guaranteed," stated the Public Observatory.
The organization "calls upon the rights societies and personalities to urge the Bahraini authority to release the rights activist Nabeel Rajab and all prisoners of conscience immediately. We appeal to all Bahraini, Arab and international political and rights organizations and to the UN to intervene," the Observatory concluded.
Sources
FIDH: http://bit.ly/PrnVoG
The Public Observatory for Human Rights (via ANND): http://on.fb.me/RBgxcm