Philippines: Social Watch questions special funds included in the next budget
Published on Mon, 2012-09-03 12:50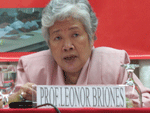 Leonor Briones. (Photo:
Freedom from Debt Coalition)
Social Watch Philippines is questioning some items in the 2013 budget submitted by the government to the Congress. The convenor of this national coalition of civil society groups, Leonor Briones, said there are lump sum appropriations called "special purpose funds", which did not provide any breakdowns.
"The budget which has been submitted by national government to the Congress is 2 trillion Philippine pesos [47.4 billion US dollars]. The items for agencies in charge of education, health, etcetera, total 1.3-trillion pesos [30.8 billion US dollars]. So we are asking to discuss the other trillion. Like the 'special purpose funds' of 317 billion pesos [7.5 billion dollars], of which no details are provided," she said.
Briones said the Congress should take a closer look into the special purpose funds in the budget deliberations.
"The Congress should watch out for this, even as they are making proposals for additional items. We can account for one trillion pesos, while the trillion is not being discussed openly," she said.
Meanwhile, Budget Secretary Florencio Abad said they have already answered all questions about these special funds not only in the Congress but also in several fora with the participation of civil society organizations.
"There is a big chunk of money that we had to put under the 'special purpose funds' because they were submitted as lump sump by some agencies, and our policy is not to allow agencies to carry lump sum. They argue that this money is meant for rural health units and for rehabilitation of district and provincial hospitals," Abad told to the press.
Abad added the government has ordered its agencies to itemize any lump sum appropriations to promote transparency.
"We told them until you submit the aggregated list of items, we will put them under a separate item and we will not include them in the budget. This is a policy which we have adopted precisely to promote greater transparency in the use of public funds," he said.
Source
ABS-CBN News: http://bit.ly/OfKRTZ