Harassment and detentions increase in Sudan
Published on Tue, 2012-09-11 15:47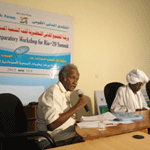 Hassan Abdel Nati.
(Photo: Sudan Vision)
Since the student led protest movement emerged in March 2011 in Sudan, demonstrators have acted "peacefully and in line" with the Constitution, but the government reaction has been "vicious", "unprecedented" and illegal, said Hassan Abdel Ati, Secretary General of Sudan's National Civic Forum, focal point of Social Watch in the African country.
In an interview disclosed by the World Alliance for Citizen Participation (CIVICUS) in its website, Ati reported that "almost all newspapers not affiliated to the ruling party are routinely confiscated after printing to cause maximum financial losses and reduce the rate of circulation."
"All newspapers have been instructed not to write about the demonstrations and to only publish official statements and versions of events," added the activist.
Hassan Abdel Ati is Secretary General of the National Civic Forum, established in 2002 as a platform for dialogue on contemporary issues in Sudan. Among other work, the organization seeks to build the capacity of civil society organizations through research, training and support of a civic education programmes that enhance democratic transformation and social peace building at a community level.
The interview reads as follows:
What issues has the student led protest movement put forward and what has been the government's reaction to the demonstrations?
The youth protests, which began in earnest in March 2011, were spearheaded by university students in Khartoum, Kassala and Port Sudan. They started with sit-ins, strikes and demonstrations. However, the recent wave of protests, which followed violent confrontations with South Sudan forces in Hejlieg, has received far greater media attention. The recent protests were organized simultaneously in universities and residential areas in major cities in 11 of 15 regional states across Sudan. The demands put forward by demonstrators have widened beyond initial concerns about price increases of basic commodities to include the severe deprivation of freedom, peace and justice.
Since the movement began, protesters have demonstrated peacefully and in line with the 2005 Sudan Interim Constitution and its adjoining bill of rights. But government reaction to the protests has been vicious and unprecedented, and has contravened Sudanese Law. Riot police, plain clothes security personal and student militias have raided university premises and female student hostels, beating students and causing serious bodily harm. In addition, government security forces have used tear gas in enclosed areas, including in the Wad Nobawi Mosque in Omdurman and at the University of Khartoum. Furthermore, security officials have unwarrantedly and indiscriminately used rubber bullets and live ammunition to disperse demonstrators.
In early August, in reaction to demonstrations in Nyala, the capital of South Darfur State, 12 people, most of them under the age of 20, were killed. At present, over 2,000 people involved in the demonstrations across Sudan remain in detention, with several being held in undisclosed facilities.
There have been reports that the government has censored coverage of the protests. To what extent has the government placed restrictions on independent media?
Attacks on journalists started about a year ago. Since then, 11 newspapers, including Al Jareeda, Al Sahafa, Alwan and Al Tayar were temporarily suspended for one to three months. In early January 2012, the government raided the offices of Rai Al Sha'ab newspaper, confiscated its assets, imprisoned two of its journalists and permanently shut down the newspaper. Furthermore, almost all newspapers not affiliated to the ruling party are routinely confiscated after printing to cause maximum financial losses and reduce the rate of circulation. All newspapers have been instructed not to write about the demonstrations and to only publish official statements and versions of events.
Persecution of independent journalists has also risen considerably since the demonstrations started. At least 15 journalists have been detained during the last year. Currently two journalists, Mohammed Al Asbati and Marwa Al Tigani, are in detention in Khartoum. Two female Egyptian journalists covering the recent demonstrations were also detained and deported from Sudan. The staff of Al Jazeera and Al Arabiya television networks has also been subjected to unwarranted harassment while covering the demonstrations, including physical abuse, the confiscation of equipment and in some cases detention for short periods.
How would you describe the overall operating environment for civil society in Sudan? Have you experienced greater restrictions since the demonstrations began?
A multitude of restrictions affect civil society organizations operating in Sudan. One area of considerable concern is that independent organizations are denied access to conflict areas, including Darfur, Blue Nile and South Kordofan. Civil society organizations registered with the Humanitarian Assistance Commission, the body in charge of registering them, are also required to receive permission to hold public events, and all hotels and conference halls have been instructed not to permit CSOs to hold events on their premises without first receiving security clearance. CSOs working on human rights or good governance are also subjected to disproportionate persecution and harassment.
Harassment and detention of civil society activists have escalated significantly since the demonstrations began. Although registered organisations have not formally participated in any of the demonstrations, CSOs have continued to discharge their mandates by advocating for the release of detainees and issuing solidarity statements. Several lawyers' groups have been harassed for representing detained demonstrators, while others operating in El Obeid, the capital of North Kordofan State, and in Port Sudan in the Red State, have been arrested.
How can regional and international civil society groups offer support to civil society and independent journalists in Sudan?
Regional and international civil society groups can offer support to Sudanese CSOs and journalist by placing pressure on the Sudanese government to ease restrictions on independent journalists, freedom of expression and CSOs. We entreat the international community to write to the President, Minister of Justice and Interior and foreign ambassadors to highlight the unwarranted arrest and detentions of peaceful protestors and the excessive use of force during peaceful demonstrators. We further ask the international community to increase support for national CSOs that work on human and civil rights and good governance.
Source
CIVICUS: http://bit.ly/OQl0Dg