Bangladesh: Civil society organizations observed "World Food Less Day"
Published on Thu, 2012-10-25 10:39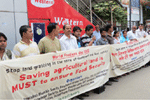 (Photo: EquityBD)
Seventeen civil society organization headed by EquityBD along with the South Asia Alliance for Poverty Eradication (SAAPE) carried out a human chain in Dhaka observing 16th October as World Food Less Day, the same date the United Nations proclaims as the World Food Day, to raise the voice on behalf the hungry people.
These groups demand the Government to prevent at any cost that big companies continue grabbing agriculture land. They consider that this is the only way to ensure national food security and sovereignty, and announced that they will continue the campaign country wide.
The organizations and networks that took part in the protest were Arpan, Eso, Online Knowledge Society, EquityBD, VOICE, Bangladesh Bhumihin Somity, Bangladesh Krishok Federation, DCI, SDO, Self Development, Manush Manusher Jonno, CDP, Kishani Shova, United People Trust, SAF, Unnayan Dhara Trust, Nature Campaign Bangladesh, and SAAP Food Sovereignty Group.
Moinuddin Howlader of Krishok Federation explained that 70 percent of the families own only 15 percent of the land devoted to agriculture. He said that a reform is essential to increase food production.
Jibananda Joyanta of SAF remembered that during the 2008 crisis, even when Bangladesh had reserves, the country had to purchase food from India, Thailand and Vietnam with price hikes of 100 to 300 percent.
Shamima Akhter of Eso forecasted that, although in the future Bangladesh may have money to buy food, the global market may not have surplus to sell.
Rezaul Karim Chowdhury of EquityBD has mentioned that, annually Bangladesh is loosing 1 percent of its arable land (89.000 hectares) due to urbanization, industrialization and river erosion. If this trend continues after 2025 the country will preserve only the half. Twenty-six percent of the national population suffers chronic food insecurity level, while the government bureaucracy continues handing over huge areas in the name of development, a trend that must be rationalized immediately.
Housing companies with strong bonds with government officers grab land and hardly care about the law, Chowdhury said.
Source
EquityBD: http://bit.ly/SxCrt8