Bangladeshi team in climate conference must ensure equity and justice
Published on Mon, 2012-11-19 07:48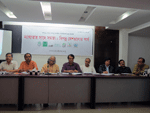 Photo: EquityBD
The Bangladeshi Civil Society Climate Network urged the government representatives to emphasize on equity and justice and to uphold climate vulnerable country interest at the 18th session of the Conference of the Parties (COP-18) scheduled to begin November 26 in Doha.
The demand was addressed in Dhaka last Friday, in a discussion on "CoP 18 Doha Climate Conference: Expectation in view of Bangladesh Perspective, Equity with Justice: Climate Vulnerable Country's Interest".
The network comprises Bangladesh Poribesh Andoloan (BAPA), Bangladesh Indigenous People Network on Climate Change and Bio Diversity (BIPNetCCBD), Campaign for Sustainable Rural Livelihood (CSRL), Climate Change Development Forum (CCDF), Climate Finance Governance Network (CFGN), Equity and Justice Working Group Bangladesh (EquityBD) and Network on Climate Change in Bangladesh (NCCB).
Representatives of the network expressed concern over the role of the Group of 77 + China, as they said which mostly dominated by the interest of BRICS (Brazil, Russia, India, China and South Africa) countries.
Moderated by Rezaul Karim Chowdury of EquityBD, the seminar was addressed, among others, by Quazi Kholiquzzaman Ahmad, chief of Bangladesh climate negotiation team, Monjurul Hannan Khan of the environment and forests ministry, Ahsan Uddin of CGC, Quamrul Islam Chowdhury of the Forum of Environment Journalists Bangladesh Golam Rabbani of Bangladesh Centre for Advance Studies, Mrinal Tripura of BIPNetCCBD and Mizanur Rahman Bijoy of NCCB.
Kholiquzzaman Ahmad said that due to the Cancun agreements, Bangladesh has the opportunity to raise demand regarding climate migrants' rights in local, regional and international level.
Inclusion of this clause in agreement is one of the achievements of the Bangladesh government delegation, he said, adding that the current team will raise the issue of transparency, accountability and participation of all international climate financing.
Golam Rabbani, a research fellow of Bangladesh Centre for Advance Studies, urged the government delegation to raise voice at the conference on behalf of the Least Developed Countries.
Zakir Hossain Khan, project coordinator of Climate Finance Governance Project, said Bangladesh should play a vital role in strengthening the Climate Vulnerable Forum for the interest of these vulnerable countries which include Bangladesh.
Economist Dr Qazi Kholiquzzaman Ahmad said Bangladesh was vocal in the last few climate conferences and the country drew attention from other countries.
"But addressing at the climate conferences yields little as main decisions are taken behind the curtain," said Kholiquzzaman, chief of Bangladesh Negotiation Team.
"So we should negotiate with those who play roles in policy making," he added.
Sources
New Age: http://bit.ly/Xrrd01
The Daily Star: http://bit.ly/SHIf2a
The Independent: http://bit.ly/U9RgFa