Nepal: The long road to achieve the MDGs
Published on Thu, 2013-02-14 22:37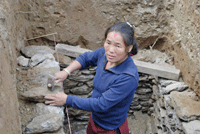 Making livelihood after taking
construction training.(Photo: RRN)
Evidence in Nepal suggests that the root causes of the political conflict include not only the severity of poverty and inequality but also the sense of entrenchment - that opportunities are limited or non-existent for the poor to climb out of poverty.
Therefore, addressing constraints on the inclusiveness of development is critical in order to make a real difference in the lives of Nepalis and reduce the risks of instability. Systemic changes in the development approach must be undertaken to adequately address the needs and priorities of the excluded and marginalized sections of the society.
A stable political structure upon which well-informed policies, institutions and mechanisms can function over time is a major determinant for people's empowerment and strengthening Nepal's peace and fragile democracy.
Source: National Report from Nepal (Social Watch Report 2013)
http://www.socialwatch.org/node/15726