Mexico: Urgent review of the paradigm of development from a rights' approach
Published on Thu, 2013-02-21 20:00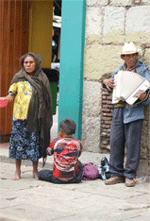 A face of urban poverty in Mexico
city. (Photo: Marlon Berlanga)
The 2010 Progress Government Report on the MDGs in Mexico emphasizes that most of the indicators associated with the MDGs and their goals have significantly improved, claiming to have met most of them and anticipating the rest would be met by 2015.
Despite the progress, the report indicates that there is still a long way to go: income inequality and living conditions of poverty and vulnerability in many families still persist; it is necessary to reduce maternal mortality and consolidate gender equality; the vital challenge of environment and higher economic growth is still unsolved.
From the perspective of civil and social organizations the national situation of poverty, inequality and violations of economic, social, cultural and environmental rights bring into question the effectiveness of the social policy that has been implemented and reveals the limitations of the MDGs approach.
The federal administration that will govern the country from 2013 to 2018 has a tremendous opportunity to redefine the course.
Source:
National report Social Watch Mexico (in Spanish), Social Watch 2013.
http://www.socialwatch.org/node/15758