Afghanistan: No sustainable development without access to quality education
Published on Fri, 2013-05-24 00:00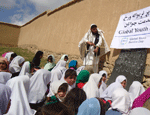 (Photo: Social Watch Afghanistan)
In September 2000, when the Millennium Summit was held at the UN General Assembly, Afghanistan was suffering from conflict and could not participate in the formulation of Millennium Development Goals (MDGs). The Government endorsed the Millennium Declaration as well as the MDGs only in March 2004. However, having lost over two decades to war, it has had to modify the global timetable and benchmarks to fit local realities. The rest of the international community defined the MDGs to be attained by 2015, against a baseline of 1990. Because of its lost decades and the lack of available information, Afghanistan has defined its MDG contribution as targets for 2020 from baselines of 2002 to 2005.
Despite extreme poverty, ill health, and hunger, Afghans define the lack of security as their greatest problem. Hence the Government of Afghanistan has added this new goal to the eight global MDGs recognizing the critical role of peace and security in achieving the other MDGs.
The Afghan Constitution has embraced the right to free education for all Afghan nationals in the state educational institutions up until the Bachelor's degree; it obliges the state to develop education in a balanced manner across the country, provide compulsory intermediate education, design and implement effective programmes, and provide the ground for teaching in mother tongues where such tongues are spoken.
Student enrolment in Afghanistan has increased eight-fold in the last nine year, from less than a million in 2001 to over 7.3 million in 2010, with a current enrolment of 38 percent girls. Over 9,000 new schools have been established to facilitate easy access to education and over 12,500 general and Islamic schools are operational in all parts of the country. To cater for enrolment of new students, over 200,000 new teaching and support staff have been recruited and deployed to schools over this period.
Despite significant progress, Afghanistan still has a large number of out of school children (4.5 million, mostly girls). Strategies to increase enrolment and retention of students, particularly girls, include public awareness activities and advocacy for girls' education, community-based schools, school food programmes, recruitment of female teachers from urban centres and relocation to rural schools, and expansion of teacher education colleges to provinces and districts with provision of incentives to female teacher trainees.
UN estimates put school attendance in Afghanistan at about 6 million children, 35 percent of whom are girls. Of the children who are able to attend school, half have no real school buildings but go to classes in tents. Girls walking to or from school risk being assaulted with acid. Teachers have been killed and parents who allow girls to attend school have been attacked and only 30 percent of girls have access to education. A public call for education for women is considered blasphemous.
With reference to adult literacy, more than 10.5 million people, are illiterate throughout the country; 87 percent of Afghan women are illiterate.
Source: Social Watch Report 2013, national report from Afghanistan
http://www.socialwatch.org/node/15960