SOCIAL WATCH E-NEWSLETTER - Issue 134 - June 14, 2013
Published on Fri, 2013-06-14 08:54

Issue 134 - June 14, 2013
Venezuela: Poverty, quality of life and political dialogue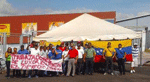 Protest in Venezuela. (Photo:
PROVEA).
The achievements in the fight against poverty that income statistics attribute to the government of Venezuela since 1999 are overshadowed by violence and insecurity that impede the full exercise of the rights to education, health, recreation and enjoyment of public spaces. Constitutional and legal reforms since 2008 represent another setback following the progress of basic rights in the first presidency of Hugo Chavez, by centralizing political power, restricting participation and democratic freedoms and pluralism, and increasing militarization of society. At the same time, the authorities insist on the criminalization of social protest and human rights.
The significant decline in poverty began during the administrations of President Chavez but stagnated in his second term (2007-2013). The reduction, which had been 16.4% between 2004 and 2006, was only 1.8% in the next four years.
DAWN Response to High Level Panel Report on Post 2015 Development Agenda
From People's Rights to Corporate Privilege: A South Feminist Critique of the HLP Report on Post 2015 Development Agenda
The High Level Panel of Eminent Persons Report on the Post 2015 Development Agenda conveys a questionable sense of optimism for women. The report at first appears to have positively responded to the world-wide call from women to have a stand-alone and expanded gender equality goal. There are targets for gender, children and young people across several of the goals, as well as possibilities for indicators on gender, children and young people to be later developed at country level. Sexual and reproductive health and rights is also explicit.
Head of WHO criticizes "Big Business" and its role in public health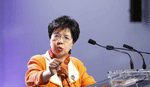 Photo: UN Photo/Rick Bajornas
The World Health Organization's head, Dr Margaret Chan, has heavily criticized how big business influences public health by way of a combination of lobbying, litigation and misleading representations of research. Dr Chan's remarks were part of her address to the 8th Global Conference on Health Promotion, held in Helsinki, Finland. Comments such as those made by Dr Chan are rather unusual for UN officials, raising the level of concern with regard to the relationship between public health and big business.
Webinar: Tools for accountability and advocacy
Are you looking for tools to support your advocacy work? The UCLA World Policy Analysis Center (WORLD - has collected data on laws and policies in 193 countries relevant to the priority objectives of Social Watch and member groups, including gender equity, the eradication of poverty, and factors that affect poverty, such as labor conditions and educational policies.
This June, WORLD is offering a unique opportunity for member organizations of Social Watch to learn about this new data source and its potential uses through an interactive webinar and discussion with Dr. Jody Heymann, Dean of the UCLA Fielding School of Public Health and Director of the World Policy Analysis Center, and colleagues at the Center. This webinar will provide an overview of the new data available through WORLD and how these can be accessed, as well as sample findings in the areas of:
poverty reduction policy (e.g. minimum wage, cash benefits),
gender equity protections (e.g. constitutional guarantees of equity, disparities in the minimum age of marriage for girls and boys),
and other key areas such as working conditions and education policy.
Webinars will take place in English, French, and Spanish.
To register for a webinar please complete the form at this link: http://goo.gl/KPjrc.
For a full description of the webinar and more information about the World Policy Analysis Center please click here.
Made possible thanks to the funding and support of the European Union and Oxfam Novib.

The international secretariat of Social Watch also receives funding and support from the Coalition of the Flemish North South Movement - 11.11.11.
The contents of this publication are the sole responsibility of Social Watch and can in no way be taken to reflect the views of the European Union, Oxfam Novib and the Coalition of the Flemish North South Movement - 11.11.11.