Honouring indigenous groups, UN human rights chief urges respect for existing treaties
Published on Mon, 2013-08-05 00:00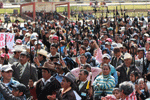 Indigenous people in
Guatemala. (Photo:
OHCHR/Rolando Alfaro)
Ahead of the International Day of the World's Indigenous People, the United Nations human rights chief today urged States to do more to honour and strengthen their treaties with indigenous peoples, no matter how long ago they were signed.
"Even when signed or otherwise agreed more than a century ago, many treaties remain the cornerstone for the protection of the identity, land and customs of indigenous peoples, determining the relationship they have with the State," High Commissioner for Human Rights Navi Pillay said in a statement.
She added that treaties are often a decisive step in ending a period of conflict, exploitation and expropriation.
"The honouring of treaties has in many cases been described as a sacred undertaking requiring good faith by each party for their proper enforcement. Yet too often indigenous communities are obliged to go to the courts to force States to live up to their promises," she added, highlighting the fact that exploitation and expropriation continue today.
The High Commissioner noted the importance of the UN Declaration on the Rights of Indigenous Peoples, which was adopted in 2007 to protect the rights of the estimated 370 million indigenous peoples worldwide and to promote the recognition, observance and enforcement of treaties and other arrangements concluded with States or their successors.
"I encourage States to take concrete steps to honour and strengthen the treaties they have concluded with indigenous peoples and to cooperate with them in implementing new agreements or other constructive arrangements through transparent, inclusive and participatory negotiations," Ms. Pillay said.
The theme of this year's World Indigenous Day – which has been marked annually on 9 August since 1995 – is "Honouring treaties, agreements and other constructive arrangements." It aims to highlight the importance of honouring arrangements between States, their citizens and indigenous peoples that were designed to recognize indigenous peoples' rights to their lands and establish a framework for living in proximity and entering into economic relationships.
This message underlines the need for States and indigenous peoples to build relationships based on trust, mutual respect, rule of law and the affirmation of indigenous peoples' culture and customs, Ms. Pillay said.
The UN will mark the Day this year with a special event in New York on Friday, featuring senior UN officials and some 2,000 representatives from indigenous groups from around the world.
Also that day, hundreds of indigenous and non-indigenous rowers are scheduled to arrive in Manhattan after having collectively travelled thousands of miles on canoes and horsebacks. The event honours the Two Row Wampum Treaty concluded in 1613 between Dutch immigrants and the Haudenosaunee, a confederacy of six nations, with the capital in the Onondaga nation in New York state.
In 2014, the UN will hold the first World Conference on Indigenous Peoples, a high-level plenary meeting with UN Member States. Two hundred indigenous participants from seven regions are to be invited, according to the event's website.
See the News and the Statement.
Source: UN
»