Bangladesh: Climate strategy demand new leadership with scientific perspective
Published on Thu, 2013-11-07 14:25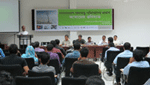 Photo. EquityBD.
Right based civil society networks in cooperation with different students' cultural organizations of Dhaka University organize a seminar at the Nowab Ali Chowdhury Senate Building and a photo exhibition at the Teacher Student Centre (TSC) in Dhaka University. The vice chancellor of the university Mr. A A M S Arefin Siddique inaugurates the photo exhibition.
The distinguished speakers in the seminar emphasize new leadership especially from youths and students with scientific perspective, so that they can implement appropriate climate strategies. The seminar was moderated by Rezaul Karim Chowdury of EquityBD and the speakers of the seminar were Professor Dr. Amanat Ullah Khan, Associate Professor Dr. Maksudur Rahman of the dept of Geography and Environment of Dhaka University, Dr Ahsan Uddin of CGC, Journalist Golam Mortoza and Zakir Hossain Khan of TIB.
These two separate event are jointly organized by BAPA, BCAS, BIPNetCCBD, CFGN, CLEAN, CSRL, COAST, DUPS, DUTS, ICDF and TIB.
Dr Amanat Ullah Khan says that the country has insufficient data on climate change impact. Dr. Maksudur Rahman elaborates how climate migrants is being entering into the urban areas of the developing countries and especially in Bangladesh and the cities has to be prepared first for climate adaptation. Dr. Maksudur Rahaman adds that, the country in the dire and needs new leadership with scientific perspectives on Climate Change.
Dr Ahsan Uddin says that there is a fundamental need to prepare knowledge based society to face the climate impacts. Knowledge will help the nation to identify what are the risks we will be facing, he adds. He gives categorical elaboration on how cyclone frequency will be increased, salinity intrusion impact will go up to northern areas of the country. He also elaborates how the slow onset climate change impact is happening in the country.
Journalist Golam Mortoza says, that government should not expect that the developed countries will rescue Bangladesh from this climate change impact. He insists on local resource mobilization and making a corruption free development management that needs new leadership especially from students with new type of politics. Zakir Hossain Khan of TIB says that it is not only the government, non government organizations or the civil society organizations has also need to come with science and corruption free perspective to protect the country from the climate change impact.
Dr. Arefin Siddique has inaugurated the photo exhibition later in TSC. He mentions that this is not only statistics, it should also be the evidence based case stories with photos, will help to develop awareness in the country and students. He also said that if such a photo exhibition takes place in abroad will enhance people to people contact in abroad, this is one of the important requirement for climate politics.
Source: EquityBD.