Conflict Analysis of Al-Anbar Iraq: Security, Religion & Gender
Published on Tue, 2014-08-12 10:34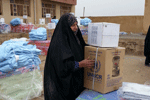 Women of Al-Anbar Iraq. Photo:
UNHCR Iraq
Almost eleven years have passed since the US toppled Saddam Hussain's regime, and Iraq still continues to struggle. In December 2013, Iraq national security forces stormed the private residence of the Iraqi Finance Minister, arresting several of his staff for supporting terrorism. This incident served as a trigger for sectarian violence throughout the Sunni triangle in southern Iraq – Al--‐Anbar Province. It was one of the areas that led peaceful demonstrations on February 2011, but subsequently witnessed the highest amount of sectarian violence, including government security force attacks on civilians.
The recent advancement of Islamic State of in Iraq and Syria (ISIS or Daesh) forces in Mosul and other areas in Iraq has caused great concern about the prospects of peace. Policymakers are scrambling to figure out an appropriate strategy to limit further advancement and prevent further security breakdown. Amidst this uncertainty, one thing is clear: preventing the further breakdown of the Iraqi state and the growth of violent extremism is a goal of international and regional actors, as well as Iraqi authorities. But ISIS' advancement in Mosul is not a new phenomenon. ISIS has managed to gain strength in other areas within Syria and Iraq before. Studying patterns in these areas may help in identifying strategies on how to move forward to build a lasting peace in Iraq and in the region.
This paper is a summary of a study of the conflict in Al--‐Anbar provinc. The findings may provide insight into the recent developments in Iraq, including explanations for the advancement of ISIS. Several key issues contributing to and sustaining conflict were identified through this research, as were points of entry for peacebuilding which can be capitalized on to reduce tensions. Key themes include:
Political & sectarian tensions
Sense of citizenship
Culture of dialogue
International Community
Rule of law & structural violence
Armed groups
Youth
Gender & rights
Recommendations for action
Read the research Security, Religion and Gender in Al-Anbar Province, Iraq: A focus group-based conflict analysis here.
Source: Iraqi Al Amal Association.
»