Chile: 2015 budget aggravates disparities in higher education
Published on Thu, 2014-10-16 13:24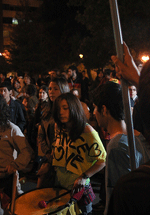 Students in Santiago.
(Photo: Hans Peters/Flickr/CC)
The proposed Budgetary Law 2015 does not contemplate significant changes in the current structure of the public financing of higher education, says an analysis by the Centre of National Studies of Alternative Development, CENDA, and the Institute of Sciences Alejandro Lipschutz, ICAL. These think-tanks worry that resources designated to "subsidize demand" have increased significantly but that doesn't change "the commercialization of education and the role of profit-making in it". Michelle Bachelet was elected president on a platform that included free high level education and therefore the study finds "surprising" that the proposed budget "repeats and aggravates exactly that process of privatization that generated the current situation".
The Centre of National Studies of Alternative Development, CENDA, and the Institute of Sciences Alejandro Lipschutz, ICAL, have expressed their worries caused by proposed Budgetary Law 2015 that does not contemplate significant changes in the current structure of the public financing of Higher Education. On the contrary, resources designated to "subsidize demand" have increased significantly.
The country has demonstrated its intention to stop profit making and commercialization of education. Therefore it is surprising that the proposed budgetary law for 2015 repeats and aggravates exactly that process of political privatizing that has generated current situation at the first place.
CENDA and ICAL request revision of the proposed budgetary law for 2015, re- destining the major part of resources to finance quality institutions directly and stably. Since 2015 these institutions plan to establish a three-category education fee scheme: firstly, a zero fee category for students who receive scholarships, secondly, a reduced fee category as an equivalent of the first one for those who sign up for solidary credits or State-sponsored credits if they do not gain scholarship, and thirdly, a category with fee reduced by 10 per cent for all others. Additionally, an establishment of a fund that would relocate finances to the state institutions for students and academicians of those educational entities that are not financed by public resources has been also proposed.
Here you can take a look at the information material presented by ICAL and CENDA in front of the members of parliament in September 2014.
In regard of these topics, CENDA and ICAL have suggested that these points should be considered:
1. An increase of public resources destined to " subsidize demand", which in 2014 represented three fourths of the higher education budget, has generated growing privatization, stimulated profit making and higher gains for institutions, debilitated public education, caused an inefficient assignment of resources, put up the price of the fees and lead to an overwhelming load of disbursements and indebtedness of students and their families. This development cannot continue anymore. The case of the state-sponsored credits is of special importance. The previous government proposed to end this credit system replacing it with a new credit system with lower financial burdens. This proposal was postponed by the current parliament, with a reasonable argument that although this reform would be a better solution, anyway, it would not be available in 2015, because respective law proposals have not been presented to the parliament yet.
2. Chilean Budget 2015 can reach the halfway towards a cost-free status of higher education, with few additional resources. It seems to be simple to pay the rest by means of five or six successive annual fee reductions, all of them certainly fully compensated by the means of stable budgetary resources. Therefore, the cost-free status is perfectly possible, immediately for the benefit of students with minor resources. In order to pay the rest, it is enough to continue with vegetative growth of the budget for education or with its small increase. Those who with great enthusiasm proclaim that this change in the budgetary law cannot be achieved or that it turns out to be inequitable, as well as those who have not studied numbers properly, seek to disguise their intention of maintaining the current status quo with these false arguments. But this is not a goal that is to be achieved.
3. Incomes of all institutions of the higher education represent a bit more than three trillions Chilean pesos, according to the balances reported to the System of Information of Higher Education (SIES). Two thirds of these incomes come from the fees, whereas one third comes basically from the State in the form of scholarships and credits and the other one in form of fees paid by students and their families in approximate terms. The remaining third of incomes is financed again by the State in form of other contributions and also by service sale, by donations and others. Nowadays, the State finances little less than a half of all fees, whether at the pre degree or post degree level, charged by all institutions of higher education. To reach the halfway towards the cost-free status in 2015, it is necessary to redirect the major part of budgetary resources that correspondent to scholarships, solidary credits and state-sponsored credits that also contribute to the minor part of incomes that are nowadays financed by banks. Next step is to direct all these resources to assets of properly accredited quality institutions, which demonstrate their will to enter the new public system, reducing successively their fees from 2015 up to achievement of the cost-free status.
4. By 2015 these institutions should establish three-fee category scheme: a zero fee category for those students who receive scholarships. All families that belong to 70 per cent of minor income population would have access to this category. The second category of reduced fee is an equivalent of the first category and would be directed at those students who sign up for solidary credits or state-sponsored credits and who do not receive scholarship but at the same time who belong to the income group of the first category. Finally, the third category that would correspond to the current situation which means that fees would be reduced by 10 per cent, for the rest of students who have neither access to scholarships nor have signed up for credits.
5. The State would compensate to these institutions, guaranteeing that they would receive at least the same amount of resources that they receive today through scholarships and credits. There would be also an additional state contribution as a compensation for the reduction of fees for the students who do not have access to these benefits.
6. This measurement will be a significant benefit for all, but especially for students who have taken on credits. These are almost all students with scholarships as well as those who have to finance their studies with credits in order to cover current fees. Together they represent more than a half of all students at the higher education level. It will also be beneficent for all other students given the 10 per cent reduction of their payments.
7. Educational institutions themselves would also benefit from this new situation, since their stable budgetary incomes would be substantially increased. This would allow them to improve the contractual conditions of their academicians and civil servants, especially of those who sign up for the state-covered credits which they have to stipulate with banks administering these credits. For the same reason, it is evident that not all institutions of higher education will be able to enjoy these benefits. Only those that fulfil quality requirements, for example, several years of accreditation, and that would be willing to make a compromise and to follow the successive fee reduction would be entitled for benefit from the new structure. It is impossible that these institutions would be enjoying advantages of new benefits and raising fees at the same time.
8. Students who study at the accredited institutions that are not capable to enter the new system of public education with differentiated fees, will continue to finance their studies with scholarships and credits, at least until required laws of higher education reform are passed.
9. There are also many institutions that cannot accede to scholarships or credits, because they have lost their accreditation and as consequence of eligibility lack they are experiencing some serious financial difficulties. One of the tasks of the State is to take care of students, academicians and civil servants of these institutions, as well as of those institutions that are not entitled to sign up for credits and to accede the previously mentioned benefits given their lack of years of accreditation needed. Therefore, the Budgetary Law 2015 must contemplate resources that could be relocated to such state institutions, to their students, teachers and civil servants, if necessary.
10. Without undermining the importance of previous points, it is also important to strengthen the institutions of the higher education of the CRUCH (Council of Rectors of the Chilean Universities), especially the state ones. This has to be done not only with the goal of providing them with an opportunity of growth and advancement, but also with the goal to put the state institutions at the top of the new system of higher education in Chile. Therefore, increasing the Direct Fiscal Contribution by 100 per cent from which a major part would be designated to these state institutions is of a crucial importance.
Source: CENDA.
»