Mexico: CSOs demand human rights and sustainability approach
Published on Fri, 2016-07-22 18:59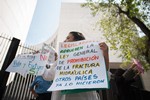 Protest against fracking
The Mexican legal framework on energy amended in 2013 and 2014 presents obstacles to the exercise of human rights as well as to achieving the SDGs, as it prioritizes the activities of exploration and exploitation of hydrocarbons "over any other involving the use of the surface and subsurface of the lands concerned". The framework establishes several legal provisions such as the determination of legal easements for hydrocarbons to public, private, national and transnational energy projects (some of which employ harmful techniques such as hydraulic fracturing or fracking), which constitutes a regression in terms of human rights and the environment, while seriously compromising the achievement of the SDGs.
The organizations of the Space for civil society coordination to the follow-up of the 2030 Agenda in Mexico therefore urge the Government to observe Article 1 of the Constitution which mandates the application of the highest standards of human rights and the fulfilment of the obligation to respect them, protect them, promote them and secure them to prevent, investigate and punish their violations.
Source: Mexico National Report, Social Watch Report 2016.
»