Implementing the 2030 Agenda: Will Belgium step up its efforts?
Published on Sat, 2016-07-30 12:23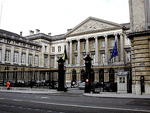 Palace of the Nation, seat of the
Belgian Federal Parliament in
Brussels.(Photo: Belgian
government)
In September 2015, Belgium declared that the 2030 Agenda will give a new élan for Belgian global engagement, calling for human rights, LGBT rights, women's rights, decent work and the power of digitalization, concluding that Belgium was ready to implement the agenda. However, by referring mainly to international cooperation, it was not clear if Belgium accepted the challenge to also change its national policy in order to reach the 2030 Agenda.
A national strategy framework is to be established by September 2016 involving all levels of government, under the auspices of the Inter-Ministerial Conference for Sustainable Development, which is best suited to ensure a coherent strategy among the three regions and the federal government. Nevertheless, midway into the first year of implementation, the policy actions needed remain distant. Belgian civil society organizations demand and urgent and clear response to the challenges of this ambitious universal 2030 Agenda, and to commit to develop an integrated, overarching strategy covering internal and external affairs.
Source: Belgium National Report, Social Watch Report 2016.
»