Guatemala: Faced with the 2030 Agenda
Published on Fri, 2016-08-05 12:06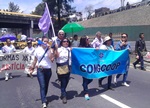 Photo: CONGCOOP.
Guatemala reached the 2015 deadline for achieving the Millennium Development Goals (MDGs) without achieving a single one. To meet the 17 Sustainable Development Goals (SDGs) agreed in the 2030 Agenda for Sustainable Development, it is essential that social organizations play an important role. But this will only be possible if social action is matched by state and political will, which must be expressed in political and budgetary changes.
So far, the state has expressed only good wishes. A long list of shortcomings frames the barely positive scenario outlined to comply with the SDGs in Guatemala. If these great challenges are not faced by taking the necessary actions, the state will not meet the demands of the population and the SDGs will not be met by 2030 either.
Source: Guatemala National Report, Social Watch Report 2016.
»