Lebanon: Structural challenges and obstacles to the implementation of the 2030 Agenda
Published on Thu, 2016-09-08 20:24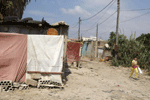 Photo: UNHCR/S. Malkawi
Several challenges hinder the implementation of the 2030 Agenda on Sustainable Development in Lebanon. During the UN Conference on Sustainable Development in September 2014 Lebanese President Tammam Salam identified the humanitarian issues caused by the Syrian refugee crisis as one of the greatest challenges to development. It is indeed a significant constraint; yet, one should note that Lebanon was facing a political and socio-economic crisis reflected by a high rate of unemployment and marginalized people, even before the Syrian crisis and the flood of refugees. Therefore, it is worth highlighting that the Syrian war shed light on the structural and systemic problems of Lebanon and aggravated them.
To date, Lebanon does not have a national strategy for sustainable development nor a national economic plan nor a poverty reduction strategy. According to the 2014 International Parliamentary Union Secretary General's annual report: "the Lebanese Parliament reported that the Sustainable Development Initiative was in the agenda of the Public Work Committee between 2009-2010 period. The current political instabilities, however, forced the Parliament to shift its priorities." The same report indicates that the Parliament has not been informed of the Sustainable Development Goals (SDGs) and has not taken any steps to discuss them.
Source: Lebanon National Report, Social Watch Report 2016.
»