Armenia: End of transition? Nationalization of the SDGs
Published on Sun, 2017-08-20 22:23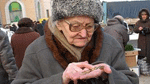 Photo: Agaron Adibekyan (Sociometr)
The Armenian government seeks to liberalize socioeconomic and political activities in a framework of respect for human rights and gender equality, acknowledges the national Social Watch report. Over the past 15 years, the poverty rate has fallen from 51 percent to 26.5 percent, but the unemployment rate is unchanged, which remains one of the main factors driving labor migration: almost one in four families (23%) in Armenia has members outside the country, of which 20 percent are in Russia and 3 percent in Europe.
The analysis of the Center for Development of Civil society concludes that despite a certain increase in per capita income, the current level allows families to cover only the costs of food and some utilities, since the state's minimum wage and various allowances do not take into account needs for medical care, education, vacation time or cultural activities.
Source: Armenia National Report 2017.
»