The right to water in Mexico
Published on Fri, 2017-11-10 16:59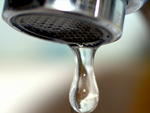 Photo: Creative Commons
License/Manuel
Water is a key concern in Mexico, where 100 civil society organizations submitted a joint report to the UN documenting how "privatization policies benefit extractive industries and mega-projects instead of reducing inequalities in access to essential services". Users with difficulties in paying the increased tariffs are being denied their human right to water and the quality of the water distributed has deteriorated so much in many places that in Aguascalientes 95 percent of the water people drink is bottled.
The report points out that water issues affect women disproportionately. "When there is a shortage, irregular delivery or bad quality water, women spend more time to bring water to their homes, boil it, filter it and deal with the authorities, frequently adding up to 30 hours a week to their domestic work." The Mexico Social Watch report emphasizes that "insufficient and ineffective regulations on environmental and social impact, have led to numerous cases of violation of fundamental rights due to business activities". The government "has not accomplished its constitutional obligation to protect human rights, affected by the proliferation of large-scale projects by private or public-private investment without prior, free, informed and culturally adequate consultation". Frequent protests have resulted in suppression, including imprisonment and physical assault. Lack of due diligence, access to justice and compliance with judicial decisions in cases of human rights violations involving companies are the norm in Mexico, the report concludes.
Source: Mexico National Report 2017.
»