Transforming institutional dynamics of power and governance
Published on Thu, 2020-03-19 23:45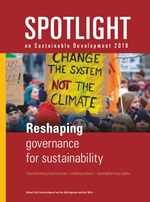 SDG 6, Ensure availability and sustainable management of water and sanitation for all, represents one of the easiest – and most fundamental – parts of the 2030 Agenda to achieve. Dynamics of power and inequality shape access to water, sanitation and hygiene (WASH) and other basic services, both in terms of tangible metrics (income, nearness and type of family toilet or water source) and because of the unequal distribution of influence over decision-making - the gulf between whose rights and voices count and whose do not. Raising the political leverage of communities facing discrimination in infrastructure and service provision is key in changing the power relationships between users and providers. The preconditions for universal access to WASH at national level must be matched by commitments at international level: to significantly increase official development assistance (ODA), restructure debt, curb illicit financial flows and stimulate new sources of international public assistance through democratic institutions.
By Kathryn Tobin, WaterAid.
Read this chapter here.
»