Education Gap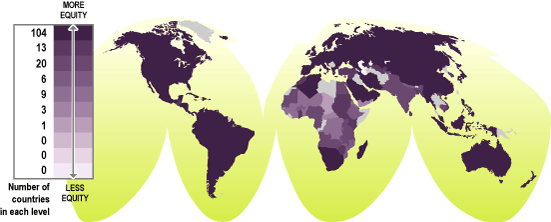 The Education Gap is estimated from the gender gap in the following indicators:

literacy rate
primary school enrolment
secondary school enrolment
tertiary education enrolment
---
Warning! Step backwards
The Gender gap in education around the world could be closed very soon. Education is the GEI dimension with the largest number of countries reaching acceptable equity levels. However, alarming situations persist and forty percent of countries experience regression trends, among them many that are already in a very bad situation.
Where are we heading in education? The balance between countries that progress and those that regress is worrisome.
Regressions outnumber progresses by more than two!!
Education gap
| | | |
| --- | --- | --- |
| Finland | 100.0 | |
| Norway | 100.0 | |
| Germany | 100.0 | |
| Bahamas | 100.0 | |
| Denmark | 100.0 | |
| Barbados | 100.0 | |
| Australia | 100.0 | |
| Philippines | 100.0 | |
| Canada | 100.0 | |
| United States of America | 100.0 | |
| United Kingdom | 100.0 | |
| Uruguay | 100.0 | |
| Slovakia | 100.0 | |
| Belgium | 100.0 | |
| Austria | 100.0 | |
| France | 100.0 | |
| Israel | 100.0 | |
| Poland | 100.0 | |
| Ireland | 100.0 | |
| Brazil | 100.0 | |
| Honduras | 100.0 | |
| Czech Republic | 100.0 | |
| Costa Rica | 100.0 | |
| Dominican Republic | 100.0 | |
| Georgia | 100.0 | |
| Lesotho | 100.0 | |
| Belize | 100.0 | |
| Maldives | 100.0 | |
| Luxembourg | 100.0 | |
| Jamaica | 100.0 | |
| Cuba | 100.0 | |
| Latvia | 100.0 | |
| Colombia | 99.9 | |
| Lithuania | 99.9 | |
| Guyana | 99.9 | |
| New Zealand | 99.9 | |
| Trinidad and Tobago | 99.9 | |
| Botswana | 99.9 | |
| Sweden | 99.9 | |
| Mongolia | 99.9 | |
| Slovenia | 99.9 | |
| Venezuela | 99.9 | |
| Estonia | 99.8 | |
| Russian Federation | 99.8 | |
| Argentina | 99.8 | |
| United Arab Emirates | 99.8 | |
| Ukraine | 99.8 | |
| Lebanon | 99.7 | |
| Kazakhstan | 99.7 | |
| Qatar | 99.7 | |
| Moldova | 99.6 | |
| Italy | 99.6 | |
| Nicaragua | 99.6 | |
| Netherlands | 99.6 | |
| Panama | 99.5 | |
| St Lucia | 99.5 | |
| Hungary | 99.4 | |
| Kyrgyzstan | 99.4 | |
| Romania | 99.3 | |
| Swaziland | 99.2 | |
| Croatia | 99.2 | |
| Spain | 99.1 | |
| Iceland | 99.1 | |
| Cyprus | 99.1 | |
| Belarus | 99.1 | |
| Paraguay | 99.1 | |
| Ecuador | 99.1 | |
| Bulgaria | 99.0 | |
| South Africa | 99.0 | |
| Albania | 99.0 | |
| Greece | 99.0 | |
| Thailand | 98.7 | |
| Suriname | 98.7 | |
| Brunei Darussalam | 98.7 | |
| Bahrain | 98.6 | |
| St Vincent and Grenadines | 98.5 | |
| Hong Kong | 98.5 | |
| Chile | 98.5 | |
| Malta | 98.3 | |
| Macedonia | 98.3 | |
| Malaysia | 98.1 | |
| El Salvador | 98.0 | |
| Portugal | 97.9 | |
| Timor-Leste | 97.9 | |
| Jordan | 97.9 | |
| Mauritius | 97.8 | |
| West Bank and Gaza | 97.8 | |
| Samoa | 97.8 | |
| Mexico | 97.3 | |
| Peru | 96.8 | |
| Saudi Arabia | 96.8 | |
| Azerbaijan | 96.4 | |
| Japan | 96.3 | |
| Oman | 96.0 | |
| Namibia | 96.0 | |
| Sao Tome and Principe | 95.7 | |
| Iran | 95.4 | |
| Bolivia | 95.1 | |
| China | 95.1 | |
| Tunisia | 94.6 | |
| Switzerland | 94.0 | |
| Madagascar | 93.5 | |
| Algeria | 93.3 | |
| Cape Verde | 92.3 | |
| Indonesia | 91.7 | |
| Singapore | 89.6 | |
| Uzbekistan | 89.2 | |
| Viet Nam | 88.6 | |
| Kenya | 87.7 | |
| Guatemala | 86.2 | |
| Zimbabwe | 86.1 | |
| Turkey | 84.4 | |
| Syria | 84.4 | |
| Korea, Rep. | 84.2 | |
| Sri Lanka | 83.7 | |
| Sudan | 82.6 | |
| Bangladesh | 82.3 | |
| Vanuatu | 81.7 | |
| Morocco | 79.8 | |
| Rwanda | 79.7 | |
| Ghana | 79.7 | |
| Tajikistan | 79.2 | |
| Malawi | 78.9 | |
| Gabon | 78.4 | |
| Egypt | 78.3 | |
| India | 77.5 | |
| Cameroon | 76.6 | |
| Cambodia | 76.3 | |
| Senegal | 76.2 | |
| Zambia | 76.2 | |
| Uganda | 75.8 | |
| Tanzania | 75.6 | |
| Angola | 75.4 | |
| Mauritania | 74.1 | |
| Equatorial Guinea | 73.2 | |
| Djibouti | 73.2 | |
| Pakistan | 73.2 | |
| Nigeria | 72.1 | |
| Gambia | 69.2 | |
| Burundi | 68.7 | |
| Mozambique | 66.0 | |
| Burkina Faso | 62.2 | |
| Ethiopia | 61.6 | |
| Nepal | 61.1 | |
| Congo, Rep. | 59.3 | |
| Côte d'Ivoire | 59.2 | |
| Mali | 55.7 | |
| Eritrea | 55.6 | |
| Sierra Leone | 55.0 | |
| Togo | 52.5 | |
| Niger | 52.0 | |
| Benin | 51.1 | |
| Guinea | 51.0 | |
| Guinea-Bissau | 48.2 | |
| Yemen | 46.4 | |
| Central African Republic | 45.6 | |
| Chad | 37.2 | |